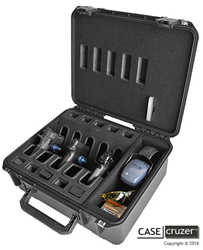 CaseCruzer is embracing the holiday spirit by offering a $30 gift certificate for gun enthusiasts and friends who re-post or share a Quick Draw Professional Series Gun Case image and text on social media
Montclair, CA (PRWEB) November 16, 2016
CaseCruzer is embracing the holiday spirit by offering a $30 gift certificate for gun enthusiasts and friends who re-post or share a Quick Draw Professional Series Gun Case image and text on social media. The giveaway promotion runs through December 15, 2016.
Gift certificates may be applied to any Quick Draw Professional Handgun Series case with the recognizable V-Form™ design. Participants may choose from the entire collection, which includes 2-, 3-, 4-, 5- and 6-pack models.
CaseCruzer rules make it easy for holiday shoppers to participate. Merely re-post or share the manufacturing company's Quick Draw Gun Case social media post via Facebook, Instagram or Pinterest. Find the company here: Facebook.com/CaseCruzer and @CaseCruzer on Instagram and Pinterest.
To receive a printable $30 gift certificate email a screenshot to promo(at)casecruzer(dot)com. The certificate value is valid thru January 15, 2017. It can be applied to a purchase or be given as a gift. Please limit one entry per person.
The Quick Draw Professional Series pistol cases are easily identified by its V-Form™ design. The molded plastic interior allows new and veteran handgun lovers to quickly access firearms for target practice.
CaseCruzer is no softy when it comes to design. The copolymer polypropylene resin shell makes multiple pistol cases virtually indestructible, even when traveling on sleds pulled by reindeer. These air travel and road warriors are also fitted with an airtight and watertight valve (and rubber-lined contact points) that seals out moisture and dust. Each carrying case must be checked-in with other luggage at airports and are airline safe ATA 300 rated. This holiday gift arrives with an unconditional lifetime guarantee. Black only.
Pistol range competitions, gun clubs and collectors' trade shows are made easy with Quick Draw Professional Series gun cases. Each unit has ample and adjustable compartments for magazine and accessory storage. The handgun case fits semi-automatic pistols from 7" in overall length up to 9.25" and revolvers with a 4" barrel length or shorter.
All models are designed with stainless steel flanges and trigger latches that can be padlocked to keep away thieves. Only the 6-pack handgun case is fitted with embedded wheels and a pull-out handle for easy maneuvering. Other models include rubber over-molded fold-down handles for fast grab-and-go.
CaseCruzer is the gift that will make this holiday special—and last a lifetime.
CaseCruzer Gift Certificate Rules: Read Official Promotion Rules
The CaseCruzer network of companies provides the community with the most comprehensive packaging solutions available on reusable carrying cases for applications such as Communications, Photography, Computers, Electronics, Weapons, Medical, Transportation and other industrial shipping and carrying case uses. For more info about the Quick Draw Professional Series Handgun Cases, please visit http://www.casecruzer.com; call 800-440-9925 in the U.S. or 909-613-1999 internationally; fax 909-465-5598; or write to CaseCruzer at 4665 State Street, Montclair, CA 91763