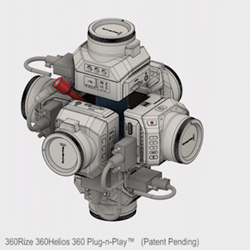 We're excited about the control and adaptability that our 360Helios rigs and accessories offer 360 filmmakers.
Olean, NY (PRWEB) November 15, 2016
360RIZE has announced it will start shipping its 360Helios 360 video rigs for Blackmagic Micro Cinema Action Cameras.
360RIZE announced it has started shipping its 360Helios 360 video rigs. The 360Helios ecosystem features components for filming cinematic quality 360 video with Blackmagic Design cameras and includes proprietary micro 4/3 lenses, genlock interface control, multi-camera control board for simultaneously operating multiple cameras and four unique rig configurations.
The 360Helios patented 360 video rigs mount between three and eight Blackmagic Design Micro Cinema camera 2Ks or Blackmagic Design Micro Studio camera 4Ks.
360Helios rigs position the company's proprietary low profile lenses close to the nodal center of the rig to improve stitching quality and feature a patent pending variable camera orientation within each rig assembly, allowing users to position cameras in portrait or landscape orientation when mounted in the rig.
"We're excited about the control and adaptability that our 360Helios rigs and accessories offer filmmakers," said 360RIZE CEO Michael Kintner. " In particular, our rig configurations make it possible to film with multiple Blackmagic Micro Cinema Camera Action Cameras in both portrait and landscape orientations. This variability allows users to dictate how the camera's frames overlap and to easily incorporate other lenses, cables and accessories into the configurations."
The proprietary micro 4/3 lens is a 2.7mm f/2.3 190-degree fisheye designed for optimum frame overlap and a shallow form factor. These features help filmmakers to correct parallax issues to allow subjects to get closer to the rig, aid in stitching out rigging and offer the ability to film in low-light conditions.
The 360Helios Bullet board offers a variety of tools for operating multiple cameras simultaneously:

Perfectly frame-synced genlock control when paired with Blackmagic Design Sync Generator
Compatible with Blackmagic Design Micro Cinema camera 2Ks and Blackmagic Design Micro Studio camera 4Ks
Control up to 8 cameras on/off simultaneously with settings sync control to force each cameras configuration to being the same
Constant 12v power to all cameras via one cable interface
Expansion port for interlocking additional 360Helios Bullet Control Boards to control unlimited number of cameras simultaneously in sets of eight.
Includes wired remote switch for manual camera operation
Onboard web server interface for wireless control via 360Helios Bullet web app (iOS, Android, PC, Mac)
Futaba interface for optional custom radio controlled configurations, great to drones and remote operations.
Micro USB input for 360Helios Bullet firmware updates
360Helios rigs, lenses and Bullet control boards are now available for order with limited quantities shipping in November. 360RIZE is accepting orders on a first come, first served basis per a company spokesperson.
About 360RIZE:
360RIZE, formerly 360Heros, specializes in 360 video camera systems that capture professional quality spherical video content. 360RIZE also develops 360 video workflow solutions such as 360CamMan™, the world's first VR media management software. Through years of research and innovation, 360RIZE is empowering content creators to push the limits of this emerging technology and our ability to create immersive content.