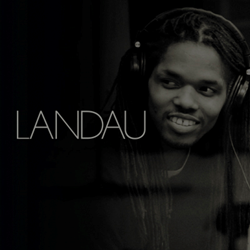 I do what I can do, and I thank God I can do it.
Washington, DC (PRWEB) November 14, 2016
2016 may have been a year filled with ups and downs for most, but it's been a non-stop rocket ride up for America's Got Talent winner Landau Eugene Murphy Jr.
Landau will kick off a whirlwind December that will include the release of his third album, the self-titled "LANDAU" on December 1st. His 6th annual holiday tour begins December 8th and will feature as Landau's special guest PostModern Jukebox vocalist Maiya Sykes from NBC TV's "The Voice" and includes over a dozen stops in markets including New York City, Washington DC, Philadelphia and his native West Virginia before wrapping up New Year's Eve with the world famous Boston Pops Symphony Orchestra. Fans who bring a new toy or non-perishable food item to holiday tour dates will receive a free Landau CD. A full listing of Landau's "Home For The Holidays 2016 Tour" dates is available at http://www.landaumurphyjr.com.
The new self-titled "LANDAU" CD was recorded at Hollywood's iconic Capitol Records Studios, where Landau also recorded his Billboard #1 selling Columbia Records album "That's Life." The Capitol studios are known as "The Studio That Defined The Sound" and have hosted recording sessions by dozens of legendary artists including Frank Sinatra, Dean Martin, Nat "King" Cole, Judy Garland, the Beach Boys, and more recently, Sam Smith, The Muse, Green Day, John Mayer, Skrillex, Beck and Imagine Dragons. "Recording at Capitol was like being on hallowed ground; I was just in awe every day," said Landau, who gave credit to his producer, Jeff Weber, for pulling it all together. "Jeff knows all the best players, engineers, arrangers and musicians in Los Angeles. I was working with guys who recorded with Barbara Streisand, Neil Diamond, Whitney Houston, John Legend… you really have to step up your game and rise to that level."
The "LANDAU" CD, Murphy's third, features a major creative step forward for the singer, whose musical diversity on tour often surprises his audience. "I mean, I love all kinds of music… so we wanted to show that on this album, along with the Great American Songbook classics everyone loves." The new "LANDAU" album features crooner classics including "Come Fly With Me," "One For My Baby, One For The Road," and "For Sentimental Reasons" alongside inspired pop classics with a Landau big band flair like Harold Melvin and the Bluenotes "Wake Up Everybody" and Bruce Hornsby's "The Way It Is." Both songs feature instantly familiar melodies but more importantly to Landau lyrical social messages that Landau says, "Are more relatable than they ever have been… right now, today."
The self-titled album also includes Landau being joined on vocals by platinum selling former Atlantic Starr lead singer Barbara Weathers on a barn-burning cover of the Otis Redding soul classic "Try A Little Tenderness." Landau still seems a little stunned by it all. "Getting to sing with Patti Labelle on 'America's Got Talent,' then with Glenn Leonard from The Temptations on my Christmas album and now with Barbara Weathers on the new record… I mean, I've always dreamed of singing with every one of them… and my dreams actually came true. It's amazing."
Landau rounds out the new album with two original songs that he co-wrote with veteran Hollywood songsmiths Bill Meyers (Michael Jackson, Earth, Wind and Fire, Whitney Houston) and Dapo Torimiro (John Legend, Stevie Wonder, Justin Bieber). "Light Up The Night With Love" and "This Thing Called Love" feature a satisfying blend of yesterday and today. Both feature Landau's classic jazzy vocals and throwback horn arrangements receiving a modern splash of color and vibrancy that make both tracks relevant for new listeners along with longtime fans of Landau's Sinatra-influenced style.
Not bad company for a formerly homeless guy who was washing cars for a living when he stood in line for hours with thousands of other hopefuls to audition for NBC TV's "America's Got Talent" in 2010, eventually walking away in September 2011 with a million dollar grand prize and a headlining stint at Caesar's Palace in Las Vegas. Needless to say, it changed his life forever; but Landau says that wasn't his plan.
"I never thought I'd win that show; I just wanted someone, somewhere to see me and give me a chance. A cruise ship, a nightclub, anything. God has really blessed me to be able to do what I do for a living more than I could have ever imagined, and really live my dream," says Landau, who stays grounded and close to his West Virginia roots and still lives in the Mountain State. His fellow Mountaineers seem to love him, and turn up at his concert appearances all over the world. The Governor there named Landau "West Virginian of the Year" and locals renamed a main thoroughfare in his hometown of Logan, West Virginia "Landau Lane" in his honor.
To date, Landau has raised over a million dollars for Mountain State charities and helped bring attention to everything from the Red Cross to the United Way, Earned Income Tax Credit to diabetes screenings and prevention. He helped raise funds for the West Virginia Music Hall of Fame by contributing a free live benefit performance and recorded a track for their upcoming fundraising tribute CD to the legendary "Little" Jimmy Dickens. Landau also opened up the "Rebuild West Virginia" national TV telethon for flood relief this past summer, which raised over $400,000 during the two hour telecast with help from Jennifer Garner, Brad Paisley, Homer Hickam, Billy Ray Cyrus, actor Kevin Sizemore and others.
And, in a year that has included dream performances from Hollywood to New York, Florida Phoenix, Minnesota to Maine and all points in between, a new album release, multiple performances with the Boston Pops, taping a PBS special at The Grove in Hollywood and dozens of hours working for charity, Landau seems to let it all roll off of him with a Zen-like calm. "I do what I can do, and I thank God I can do it."
Home For The Holidays Tour 2016

Thursday December 8th Carnegie Hall Lewisburg WV
Friday December 9th Larry Joe Harless Community Center Gilbert WV
Saturday December 10th Madison Civic Center Madison WV
Monday December 12th Sun City Hilton Head SC
Thursday December 15th Star Theater Berkeley Springs WV
Friday December 16th Bethesda Blues and Jazz Washington DC
Saturday December 17th Metropolitan Theater Morgantown WV with the United Way
Sunday December 18th Chevy Chase Baptist Church Chevy Chase MD
Tuesday December 20th TBA – details coming soon
Wednesday December 21st Capitol Center Theater Charleston WV presented by the Children's Home Society of West Virginia
Tuesday December 27th Highline Ballroom New York City NY
Wednesday December 28th Sellersville Theater Sellersville/Philadelphia PA
Thursday December 29th TBA – details coming soon
Saturday December 31st – Boston Pops Symphony Orchestra Boston MA
All show tickets and information will be available online at http://www.landaumurphyjr.com/events.