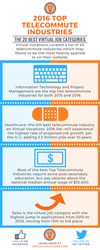 The increase of telecommute work options in traditionally in-office or client-facing positions is encouraging as more employers embrace the benefits that telecommuting provides for both business and employees. -Laura Spawn, CEO
Tucson, AZ (PRWEB) November 15, 2016
METHODOLOGY
When compiling their list of the Top Telecommute Industries of 2016, Virtual Vocations utilized the following research methodology:

Isolating data from the Virtual Vocations Telecommute Jobs Database on the telecommute industries within which Virtual Vocations' registered members most frequently applied to remote jobs, as well as which job titles within those industries are most often associated with available job openings
Extracting stats from the Virtual Vocations Telecommute Companies Database concerning which telecommute-friendly employers are hiring within each of the 20 Top Telecommute Industries
Abstracting Bureau of Labor Statistics (BLS) findings on the Top Telecommute Industries' projected rates of job growth from 2014 to 2024
Laura Spawn, CEO of Virtual Vocations noted, "As technology continues to evolve, we have seen changes in various industries over the years indicating a wider acceptance of remote work. The increase of telecommute work options in traditionally in-office or client-facing positions is encouraging as more employers embrace the benefits that telecommuting provides for both business and employees."
FINDINGS
Virtual Vocations' study of the best telecommute industries for 2016 returned valuable insights for job seekers who want to work remotely:

Information Technology and Project Management are the top two telecommute industries for both 2015 and 2016.
Most of the Top Telecommute Industries require some post-secondary education, but pay salaries above the national median annual wage of $32,600.
Healthcare—the 5th best telecommute industry on Virtual Vocations' 2016 list—will experience the highest rate of projected job growth, per the BLS, adding 2.3 million jobs over 10 years.
CHANGES FROM 2015
Virtual Vocations compared their data on the most popular telecommute industries from 2016 against their 2015 statistics on the telecommuting industries Virtual Vocations' members most often sought out when searching for and applying to telecommute jobs and noted the following trends that emerged over the course of the year:

New virtual job categories making the 2016 Top Telecommute Industries list include Accounting, Business Operations, and Research; meanwhile, favorite telecommuting industries during 2015, like Case Management, Nursing, Teaching, and Technical Writing, did not appear on the 2016 list.
Sales is the virtual job category with the highest jump in applications, increasing from the 13th best to the 3rd best telecommute industry.
Read the full report on Virtual Vocations' 2016 Top Telecommute Industries at Virtual Vocations.
About Virtual Vocations: Virtual Vocations is the largest and most comprehensive online database of telecommute-only jobs. Offering more than 40 diverse career categories and customizable search filters, Virtual Vocations is committed to helping job seekers gain an advantage in the competitive telecommute job market by finding quality job leads faster and easier. Virtual Vocations has assisted over half a million people in their search for flexible, telecommute jobs and is dedicated to bringing subscribers scam-free job leads that offer some form of telecommuting or virtual work. Virtual Vocations is a private, family-owned and 100% virtual company incorporated in Tucson, AZ.