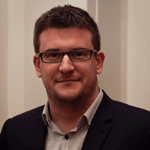 "Producing great content is a key part of our marketing strategy and in Graham we have a true expert in this space. I'm excited to see us help more brands to improve their customer journeys online with the content we produce."
Houghton-le-Spring, Tyne and Wear (PRWEB) November 18, 2016
Behavioural marketing SaleCycle today announced that Graham Charlton will be joining the company as Editor in Chief. Charlton will be working within the marketing team to produce high-quality content including blog articles, ebooks, and videos.
He has more than 10 years' experience in digital marketing, having worked at Econsultancy on its blog and research reports, and more recently as Editor in Chief at ClickZ Global, managing the ClickZ and Search Engine Watch websites.
Charlton is relishing the new challenge:
"I've spent the last decade or more writing about the growth of ecommerce and digital marketing, and it's an exciting opportunity to be joining a team which does some great work for clients in this area."
SaleCycle's Head of Marketing Chris Sheen:
"Producing great content is a key part of our marketing strategy and in Graham we have a true expert in this space. I'm excited to see us help more brands to improve their customer journeys online with the content we produce."
About SaleCycle
Founded in 2010, behavioral marketing company SaleCycle helps businesses create better customer journeys online.
Putting customers at the heart of everything they do, SaleCycle uses behavioral data to help optimize conversion rates, recover abandoned sales and increase customer lifetime value. The end result? Increased online sales.
With offices in the USA, UK, France, Singapore and Sydney, SaleCycle fuels the growth of over 500 companies, including the likes of Ralph Lauren, IKEA and Virgin Atlantic.