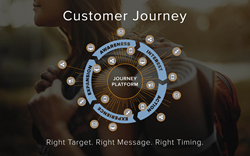 This is a game-changer because it will enable us to help clients, from the enterprise to the startup, in a more relevant, and timely manner
Grapevine, Texas (PRWEB) November 15, 2016
Ascend Marketing, a marketing services company with clients ranging from well-funded startups to the Fortune 100, has announced a partnership with Kitewheel, a Boston-based technology company whose software orchestrates intelligent customer journeys for agencies that service a wide variety of clients, including enterprise-level companies.
Ascend (http://www.ascend-marketing.com/) already possesses extensive expertise in customer engagement marketing, which is the art of weaving together different marketing tactics and vehicles to elicit the desired response from customers and prospective customers. Kitewheel makes software that further enables customer engagement marketing, and heightens its success rate.
"Ascend is a great fit for our technology because of its broad-based experience in customer engagement marketing," said Mark Smith, the President of Kitewheel. "Ascend understands the value of our technology and how it should be applied to its brand clients. The fact that Ascend will initially integrate our technology into the services it provides to its Fortune 100 client makes this partnership even more exciting."
Kitewheel has been hailed by both Gartner and Forrester as a leader in the space. In fact, Forrester recently identified it as being one of seven companies that possess all 12 specific features that customers should look for when considering such solutions.
"Our customers have been hungry for this kind of technology for some time," said Rich Herbst, the managing director of Ascend. "But there have been so many factors preventing its adoption, like cost and the inability to adapt it to existing systems.
"After reviewing a slew of vendor solutions, we realized Kitewheel is unique in its ability to solve these customer challenges and it complements what we already provide to our customers. This is a game-changer because it will enable us to help clients, from the enterprise to the startup, in a more relevant, and timely manner.
"First, we can see what people are doing across all of the digital touchpoints -- email, website, mobile, or social -- in real time. This is the Omni-channel marketing that our clients aspire to. We can reach out to them across those digital channels in a very personal way. Finally, we can bring a new client - even at enterprise level - online in a matter of just a few months. And the cost is a small fraction of what our clients would pay for another enterprise platform."
He added that the value to Ascend's clients is powerful.
"It doesn't require our clients to rip up and replace existing systems, which is always risky, time consuming and costly," said Herbst. "Instead, it works in conjunction with the digital technologies that the client has in place, without disrupting the marketing teams that support them."
Herbst elaborated on how Kitewheel's technology complements Automated Journey Marketing
"Journey Marketing enables thoughtful design and implementation of customer journeys that bring the right message, the right offer, and the right timing to meet customers 'where they are' in their experience of the product or service being offered," he said. "Kitewheel provides unique capabilities in architecting these journeys and delivering those via the full array of channels and marketing vehicles – from digital marketing through email and live sales/service channels. Now we have software and program support that puts together all of our tactics into a compelling customer journey."
Ed Parker, the leader of Data Science at Ascend, believes the combined solution will be an immediate hit in the marketplace.
"This technology lends itself to an agile methodology approach, which allows our clients to see benefits more quickly than the aging waterfall methodology present in many enterprise software deployments," said Parker.
"Another point worth noting is that with the technology has the capability for real-time model scoring. Gone are the days of a growing unscored group of customers between model refreshes. Clients can now make decisions with the software based on that real-time quantitative data."
About Ascend
Ascend Marketing is a TX-based company with offices in Grapevine and Austin. Ascend has established itself as an expert in the customer engagement arena, providing a range of services including data, digital marketing, creative services, and technology. Founded in 2004, Ascend employs close to 50 professionals and services companies that range from well-funded startups to the Fortune 100.