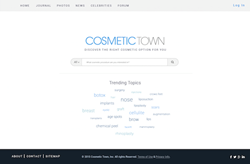 ....discover more information about how certain procedures are performed and make an informed decision about which surgical option is the best choice for their medical needs. - Senior Editor of Cosmetic Town
Los Angeles, CA (PRWEB) November 15, 2016
Cosmetic Town, an online plastic surgery news and information community, announces the relaunch of its website. The new design features an updated list of trending plastic surgery topics, an easier to navigate search engine and a redesigned procedure section spotlighting subcategories of each specific procedure.
According to the senior editor of Cosmetic Town, "We're really happy with the newly designed procedure section on the website. Each main procedure is broken down into subcategories to make it easier for our readers to dig deeper into each surgical option. They can discover more information about how certain procedures are performed and make an informed decision about which surgical option is the best choice for their medical needs."
When asked what inspired the redesign of the website, the senior editor said they have "been working for the last few months on updating our database of medical articles. We wanted to make sure and include the latest information about the procedures as well as the different techniques available for each surgery. The best patient is a patient who has the necessary information to make an educated decision about having plastic surgery."
The website redesign also includes a list of trending plastic surgery topics focusing on popular procedures and a new search engine designed to make it easier for patients to discover more information about the trending topics. The senior editor stated that "Cosmetic Town is committed to staying on top of plastic surgery trends that are important to our readers. Between the feedback we get from our readers and the types of doctors most searched for on our website, we are able to provide information desired by our readers. In turn, they are able to connect with board-certified doctors featured on our website that specialize in those procedures. The new website will make life easier for patients interested in having plastic surgery."
About Cosmetic Town
Cosmetic Town is an online cosmetic medicine publication that also features doctors who were endorsed and highly recommended by their peers. This reliable and streamlined database allows users to easily navigate the website and access the information they need with just a click of a button. Users can also stay informed and get the latest news on plastic surgery by reading the regularly updated news section. Visiting the forum page is also another way for users to stay engaged and keep each other up to date.