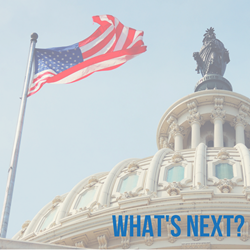 Exactly what shape the Republican's replacement plan remains to be seen. - Craig Firestone, President & CEO UnifyHR
Irving, Texas (PRWEB) November 17, 2016
The election may be over, but the future of the Affordable Care Act isn't clear. While Republicans have promised immediate "repeal and replace," crafting a replacement won't be easy, or cheap.
Many analysts believe a political path to repeal is extremely complicated, with significant obstacles to dismantling the law. The Affordable Care Act, enacted in the spring of 2010 with virtually no GOP support, is a 2,000-page statute that ushered in the broadest – and most expensive – changes to the health-care system in half a century. The challenge for Republicans is "to come to some consensus about how to unwind it and what to replace it with," says Larry Levitt of the Kaiser Family Foundation.
Exactly what shape the Republican's replacement plan remains to be seen. One possible replacement is the "CARE" Act, a 9-page summary outlining what Republican crafted legislation might look like. You can review this summary at http://obamacarefacts.com/obamacare-replacement-plan-facts.
In his plan titled "Donald Trump's Contract With The American Voter," President-Elect Trump lays out his plan for the first 100 days of his administration, including his intention to repeal and replace the Obamacare Act with "Health Savings Accounts, the ability to purchase health insurance across state lines," and letting "states manage Medicaid funds." Proposed reforms also include "cutting the red tape at the FDA."
The Congressional Budget Office estimates that repealing the law would cause the deficit to grow by $353 billion over the next ten years, with approximately 24 million individuals losing their insurance coverage during that span. The Rand Corporation predicts that President-Elect Trump's proposed health plan would add nearly $6 billion to the deficit in 2018, the first full year of his presidency.
"Will Republicans try to mold Trump's stated goals into a workable plan, follow the blueprint of the CARE Act, or decide to blaze a new trail to repeal and replace Obamacare? We should all expect a plan to materialize in the months to come. Meanwhile, you can continue to count on UnifyHR to help you meet the many requirements with cost-effective solutions and outstanding service," says Craig Firestone, President & CEO at UnifyHR. He continued, "The uncertainty appears to be growing as confirmed by recent news."
About UnifyHR
This law challenges every organization's ability to bring together information from a myriad of systems and sources. We understand that staffing your technology, finance, and Human Resources teams is challenging when capital resources are already in short supply. UnifyHR delivers the answers, enabling you to take action now. For more information, visit http://www.unifyhr.com.
© 2016 UnifyHR. All Rights Reserved. November 15th, 2016