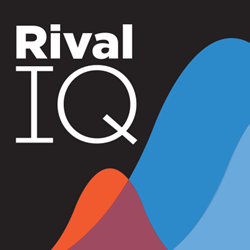 "Rival IQ continues to help us prove the value of our social activities, and this new release is going to take our social media strategy to a whole new level."
Seattle, Washington (PRWEB) November 16, 2016
Rival IQ, the leader in social marketing analytics and insights, today announced the latest update to its powerful solution for setting social strategy and optimizing results. Focused on Facebook, this release gives Rival IQ customers a comprehensive picture of their social performance.
With more than 75% of companies boosting posts, the latest release empowers users of Rival IQ with a complete set of tools to establish a winning strategy on Facebook. Using the newest features Rival IQ customers can now:
Expose Likely Boosted Posts – Quickly identify which posts by competitors were likely paid to be boosted to understand their relative performance better.
Evaluate Boosted Posts – Customers can leverage new data to evaluate the performance of their own Boosted Posts to determine ROI.
Assess Instant Articles – Measure how Facebook Instant Articles drive audience growth and engagement including the number of views, view duration, and scroll time.
Dive deep on individual posts -- Track results across a range of channels, including boosted posts, live video, and organic response with the Single Post Dashboard.
"These great new features in Rival IQ are a big deal to us, and help us give our executives a clear view of our results on Facebook," said Fabiola Romero, social media customer care specialist at Yamaha Motors. "Rival IQ continues to help us prove the value of our social activities, and this new release is going to take our social media strategy to a whole new level."
"Customers around the world like Yamaha Motors now can benefit from a complete picture of their social marketing, to better determine the value and optimize spend," said Seth Bridges, head of product at Rival IQ. "With the latest release, customers now can get a rich understanding of their Facebook performance and better target their highest value followers."
Rival IQ delivers digital marketing analytics with a competitive and comparative context. Their goal is to equip marketers with a toolkit for uncovering new opportunities, identify trends, and track results across all the key social channels and the web. The insights revealed in the reports help marketers set tangible benchmarks, make data-driven marketing decisions, improve results and better understand competitors.
Businesses looking to evaluate their social media performance better may sign up for a free trial of Rival IQ at http://www.RivalIQ.com.
Contact:
Danica Benson
Rival IQ
media(at)rivaliq(dot)com
About Rival IQ
Rival IQ helps digital marketers make more informed content decisions, better understand their audiences and improve their social media engagement using Rival IQ's clear analytics and competitive intelligence insights. For more information, visit http://www.rivaliq.com, call +1.206.395.8572, or follow us on Twitter, LinkedIn and Facebook.