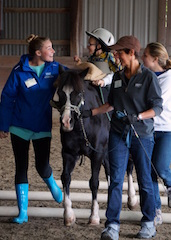 Randi Talbot, UNE Student said, "This is the best course we've taken because we're already able to see results with the young riders engaged in equine therapy. It's amazing."
Lyman, Maine (PRWEB) November 16, 2016
Carlisle Academy, New England's premier integrative riding school, has partnered with the University of New England (UNE) to introduce future occupational, physical and speech therapists to equine therapy.
Offered to students in UNE's Health, Wellness and Occupational Studies program in the Westbrook College of Health Professions, the course presents the fundamentals of hippotherapy, which was developed in therapists in Germany and introduced to the United States in the 1980s. Since that time, hippotherapy as a clinical treatment strategy has gained momentum and vital growth within the industry of animal-assisted therapy.
Equine therapy can be an effective approach for people with a variety of developmental, acquired or age-related challenges, as well as people with issues related to substance, physical and emotional abuse.
The course, titled "Introduction to Equine Therapy and Wellness," debuted during the Fall 2016 semester and includes lectures at UNE and lab sessions at Carlisle Academy in Lyman. The course instructor is Susan Grant, OTR/L, HCPS, a member of the Carlisle Academy clinical staff who is certified as a Hippotherapy Clinical Therapist.
Grant says, "The students' learning progression has exceeded my expectations. We have been able to discuss treatment theories used by experienced occupational therapists." She added, "Students have witnessed, firsthand, magnificent neurodevelopmental changes in our children that directly resulted from our equine based work."
Students are excited about the opportunity to experience this unique learning opportunity as undergraduates. Megan Kenny, a Health, Wellness and Occupational Studies major, said, "This type of hands-on learning is something you don't normally get to do until you're at the graduate level." Fellow student Randi Talbot said, "This is the best course we've taken because we're already able to see results with the young riders engaged in equine therapy. It's amazing."
Sarah Armentrout, Head of School at Carlisle, says, "We are grateful that the University of New England has allowed us to be part of their students' learning process. This is a rare university-level opportunity to gain insights and comprehension of hippotherapy and its applications to future clinical work."
Elizabeth Francis-Connolly, Dean of the UNE Westbrook College of health Professions, said this course aligns well with the university's commitment to preparing the next generation of leaders in their chosen health professions. "UNE has a long tradition of providing opportunities for our students to learn alongside experts in their chosen field. We are excited that our students are able to learn about hippotherapy from the experts and innovators at Carlisle Academy. This unique learning opportunity has strengthened our students' graduate school applications and readiness for post graduate education."
Learn more about Carlisle Academy at http://carlisleacademymaine.com
Learn more about the University of New England http://www.une.edu
Photo Credit: Jere Gray
Media Contact: Angie Helton, Northeast Media Associates, 207.653.0365 or nema(at)maine(dot)rr(dot)com