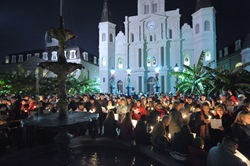 For the perfect holiday celebration in a mild and inviting climate, spend your Christmas in New Orleans this year," said Mayor Mitch Landrieu.
New Orleans, LA (PRWEB) November 17, 2016
Six weeks of celebration starts today with Christmas New Orleans Style, sponsored by New Orleans Tourism Marketing Corporation, NOTMC, and programmed by French Quarter Festivals, Inc., FQFI.
"For the perfect holiday celebration in a mild and inviting climate, spend Christmas in New Orleans this year," said Mayor Mitch Landrieu. "The 2016 holiday season offers authentic experiences from a unique culture that will help experience Christmas in new ways."
In addition to the city's usual offering of historic neighborhoods, the Christmas season adds holiday music at many venues, traditional Reveillon dinners at local restaurants, and attractions like ChristmasFest at the Convention Center and holiday shows at the World War II Museum. Over one-hundred attractions, restaurants, and shops have activities planned over the six weeks of Christmas New Orleans Style.
Activities include concerts, tours, and cooking demonstrations at no cost, traditional Reveillon dinners, custom attractions, and great shopping. The joy is spread from November 17 through Twelfth Night, Friday, January 6th, 2017.
"New Orleans offers fun while experiencing a culture found nowhere else," said Mark Romig, President and CEO of NOTMC. "Sparkling lights, holiday sounds, and traditional food delights visitors who choose to celebrate in New Orleans."
Seasonal celebration highlights include:

Papa Noel hotel rates discounted up to 25% at one of 58 area hotels and bed and breakfast establishments
Up to 52 participating Reveillon restaurants with dinners starting at only $34
Over 82 holiday events, 15 of which are at no cost
Concerts at St. Louis Cathedral in the French Quarter and St. Augustine Church in the Treme neighborhood
Great Christmas shopping with many discounts offered around the city
Entertaining historic characters strolling through the French Quarter from 'Louisiana History Alive!'
"Every festive experience can be found in the free Christmas New Orleans Style Guidebook," said Marci Schramm, Executive Director of French Quarter Festivals, Inc. "Pick it up at a Visitor's Center once you arrive, or download it from the FollowYourJoy.com website."
The 2016 "Follow Your Joy" ad campaign will feature New Orleans over the following dates:
Social 11/14 – 12/11
Digital 11/10 – 12/11
Television 11/14 – 12/25
John Goodman is the voice of the 15 holiday commercial which features scenes of New Orleans architecture, the National WWII Museum, City Park, and the historic St. Charles Avenue streetcar. The soundtrack is 'Jingle Bells' by New Orleans' New Birth Brass Band.
A social and digital media campaign will cover six fly markets that include Atlanta, GA; Chicago, IL; Dallas, TX; Indianapolis, IN; Little Rock, AK; and Memphis, TN.
The social and digital campaign will advertise in twelve secondary fly and drive markets including Austin, TX; Baton Rouge, LA; Birmingham, AL; Brooklyn, NY; Houston, TX; Jackson, MS; Kansas City, KS; Mobile, AL-Pensacola, FL; Nashville, TN; St. Louis, MO; Tampa-St. Pete, FL; and Tulsa, OK. The campaign will occur on Facebook and Instagram in all 18 regional drive and national fly target markets.
Digital distribution will include banners across Travel & Leisure, National Geographic, AFAR, and Vox. Social messaging will include sponsored social ads showcasing seasonal events and happenings, holiday caroling, bonfires on the levee, light shows, and decadent desserts.
In addition to being featured on YouTube, a national television campaign will play the spot on Food Network, Hallmark, HGTV, Travel Channel, BET, TLC, and DIY. Local television affiliate stations for ABC, CBS, and NBC will air the 'Follow Your Joy' spot as well as the 'Follow Your NOLA' family spot during Thanksgiving and Holiday specials in Atlanta, Dallas, Memphis, Little Rock, and Indianapolis.
A holiday website, FollowYourJoy.com, showcases Christmas New Orleans Style events, Christmas carolers, bonfires on the levee, light shows and delicious desserts. Additionally, visitors and locals are invited to share their favorite New Orleans holiday moments on Instagram and Twitter by tagging their photos with #FollowYourNOLA and #FollowYourJoy. The holiday campaign is also supported across New Orleans' official social media channels including Facebook, Instagram, Twitter, Pinterest, and the GoNola.com blog.
NOTMC's agency of record, 360i, along with Spears Group and Community, as well as social media firm FSC Interactive worked together to coordinate the ad campaign across all platforms.
To learn more about Christmas New Orleans Style, and to see the 2015 CNOS guidebook listing all scheduled events, visit FollowYourJoy.com or FQFI.org. Hotel reservations, including special citywide rates, can also be booked via direct links to hotels on FollowYourJoy.com. The spots are viewable online at GoNOLA-TV, found on YouTube, or by clicking on the following links:
:30 "Follow Your NOLA" family spot
https://www.youtube.com/watch?v=9caBuGRX0XI
:15 "Follow Your Joy" holiday spot
https://www.youtube.com/watch?v=WjydxTDH2Rs
For a schedule of events or more information on Christmas New Orleans Style, call (504) 522-5730 or visit http://www.FollowYourJoy.com.