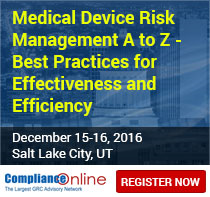 Course "Medical Device Risk Management A to Z - Best Practices for Effectiveness and Efficiency" has been pre-approved by RAPS as eligible for up to 12 credits towards a participant's RAC recertification upon full completion.
Palo Alto, CA, USA (PRWEB) November 17, 2016
Led by well-known risk management specialist Stan Mastrangelo, ComplianceOnline's popular seminar on medical device risk management comes to Salt Lake City and Boston. The two-day training program will address best practices to implement good risk management principles into medical products manufacturing operations such as medical devices, combination products, and pharmaceuticals.
Given the constant updates in the industry, each session in the seminar will cover these industry updates and focus on best practices to implement the ISO 14971 framework. The seminar will discuss the key implementation issues related to risk management and will teach attendees how to use standards to facilitate product-to-market achievements. It will also review risk integration issues, especially related to the quality system and design controls.
Seminar instructor Stan Mastrangelo has over 30 years of professional work experience in quality assurance of medical devices, pharmaceuticals, and foods. Stan has had extensive involvement in the development of International Risk Management Standards. He was a member of the ISO Joint Working Group for Risk Management of Medical Devices (that developed ISO/IEC14971) and a committee liaison to the ISO Technical Management Board Joint Working Group on Risk Management that developed ISO 31000. Stan also served on various IEC Standards Teams related to IEC 60601, IEC 80001 and Risk Management in the Software Lifecycle.
This seminar will be beneficial for individuals accountable for medical device risk management. Project managers, quality managers, R & D managers, regulatory and compliance mangers will benefit from attending this seminar.
For more information or to register for the seminar, please click here.
Dates: Thursday, December 15, 2017 (8.30 AM- 4.30 PM) and Friday, December 16, 2017 (8.30 AM- 4.30 PM)
Thursday, May 4, 2017 (8.30 AM- 4.30 PM) and Friday, May 5, 2017 (8.30 AM- 4.30 PM)
Location 1: Salt Lake City, UT
Location 2: Boston, MA
Registration Cost: $1,999.00 per registration
Early bird discounts: For discounts on early registrations, please click here.
Register by phone: Please call our customer service specialists at +1-888-717-2436 or email to customercare@complianceonline.com
For more information on ComplianceOnline or to browse through our trainings, please visit our website.
About ComplianceOnline:
ComplianceOnline is a leading provider of regulatory compliance trainings for companies and professionals in regulated industries. ComplianceOnline has successfully trained over 35,000 professionals from 9,000 companies to comply with the requirements of regulatory agencies. ComplianceOnline is headquartered in Palo Alto, California and can be reached at http://www.complianceonline.com. ComplianceOnline is a MetricStream portal. MetricStream (http://www.metricstream.com) is a market leader in Enterprise-wide Governance, Risk, Compliance (GRC) and Quality Management Solutions for global corporations.
For more information please contact:
A Reuben Bernard
Associate Director - ComplianceOnline
2600 E Bayshore Rd
Palo Alto CA USA 94303
Phone - 650-238-9656/888-717-2436
Fax - 650-963-2556
Mail: reuben(at)complianceonline(dot)com
Website: http://www.complianceonline.com