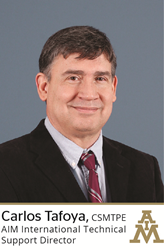 Cranston, RI USA (PRWEB) November 22, 2016
AIM Solder, a leading global manufacturer of solder assembly materials for the electronics industry, is pleased to announce that Carlos Tafoya, International Technical Support Director, recently joined the SMTA Training Committee.
The SMTA Training Committee's mission is to make training materials more affordable and accessible, accounting for current and emerging SMT and packaging technologies. As a contributing member, Carlos is responsible for translating training materials into Spanish, to support the engagement of Spanish-speaking audiences.
Carlos Tafoya received his B.S. in Industrial Engineering from the University of Texas – El Paso. He joined AIM in 2005, bringing with him over two decades of experience in the electronics assembly industry. Carlos currently oversees AIM's technical support teams based in USA, Canada, Mexico, South America, Europe, China and India.
For technical support, Carlos may be reached at ctafoya(at)aimsolder(dot)com.
About AIM
Headquartered in Montreal, Canada, AIM Solder is a leading global manufacturer of assembly materials for the electronics industry with manufacturing, distribution and support facilities located throughout the world. AIM produces advanced solder products such as solder paste, liquid flux, cored wire, bar solder, epoxies, lead-free and halogen-free solder products, preforms, and specialty alloys such as indium and gold for a broad range of industries. A recipient of many prestigious SMT industry awards, AIM is strongly committed to innovative research and development of product and process improvement as well as providing customers with superior technical support, service and training. For more information about AIM, visit http://www.aimsolder.com.