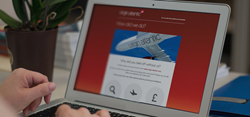 "Email continues to outperform other channels when it comes to ROI – at 73% in 2016 – and it's a trend we don't anticipate that will slow any time soon."
Houghton-le-Spring, Tyne and Wear (PRWEB) November 22, 2016
SaleCycle, the behavioral marketing company, today announced the launch of new email features that will help brands improve every stage in their customer journey.
The new features enable their clients to target visitors with automated, personalized emails wherever they are in their buying journey, from targeting first time browsers through to following-up with those who have recently made a purchase.
The new features include:
Browse Abandonment Emails – Target visitors who look at specific products with personalized suggestions based on their browsing history;
Cart Abandonment Surveys – Gain insights on the reasons people abandon on their site by automating a survey to visitors who have abandoned;
Cross-Sell / Upsell Emails – Add value to every purchase with personalized recommendations designed to tempt their customers to buy more;
Replenishment Emails – Ensure that customers never run out of their favorite products with timely reminders when they need replacements.
It's an exciting development for SaleCycle - recently named in Deloitte's Fast 500 which recognizes the fastest growing technology companies in North America – with the company viewing these as the perfect evolution to their existing cart abandonment solutions.
Head of Product, Michael Barber, was keen to stress the importance email still has to play in customer journeys online: "Email has always been at the cornerstone of SaleCycle's heritage and we're incredibly excited to bring the features to market that our clients have been crying out for. As our friends at Econsultancy recently published, email continues to outperform other channels when it comes to ROI – at 73% in 2016 – and it's a trend we don't anticipate that will slow any time soon."
Head of Marketing, Chris Sheen, added "It's always exciting bringing new products to market, but even more so when they are backed by our fantastic client base. We have clients across retail, travel and financial service already using these new features with great effect and I can't wait to see who is next to roll the new features out."
SaleCycle will be demonstrating examples of their new emails in action in a live webinar on Tuesday 29th November. Save your spot at: http://www.salecycle.com/email-and-your-customer-journey/