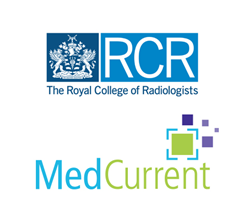 (PRWEB) November 23, 2016
The Royal College of Radiologists (RCR) and MedCurrent have announced a series of pilots to incorporate the RCR's renowned radiology referral guidelines iRefer into MedCurrent's Clinical Decision Support System. The pilot projects in the UK and elsewhere aim to provide seamless, evidence-based guidance at the point of request for GP requesting systems and hospital systems when selecting the diagnostic imaging test for their patients.
Following a successful proof of concept, the RCR determined that MedCurrent's system had the ability to meet those aims. In addition it provides a one-stop knowledge database supporting quality improvement.
There were 40 million imaging investigations undertaken in England in 2015–16: GPs requested 26% of all tests used to diagnose or discount cancer and the most common test was a chest X-ray – 8.1 million tests being requested in 2015–16(7). The range of imaging tests now available and how they can best be used grows more complex each year. Busy GPs and hospital clinicians need RCR's iRefer guidelines at their fingertips. The pilots that the RCR and MedCurrent have announced today offer the real prospect of that happening in a vendor neutral way.
Speaking about the launch of the pilots, Dr Nicola Strickland, RCR President said:
"Patients want the fewest possible tests to get the answer they need. Radiation used in such tests is very safe but we do not want to expose patients to more radiation than they absolutely need. Our guidelines delivered in a CDS system offer much better ways to achieve this and we believe MedCurrent's seamless platform provides the flexibility and scalability to help us achieve our goals. Using the expertise of our stretched radiologist workforce most efficiently is also really important. We look forward to the evaluation of these pilots."
Dr Steve Herman, Chief Medical Officer of MedCurrent added:
"MedCurrent is delighted to collaborate with the RCR in these important pilots. We are confident that together we can help GPs and hospital clinicians request the right test at the right time for each patient. RCR's iRefer guidelines are focused on the clinical presentation of the patient and advise on the best imaging test for the signs and symptoms. iRefer is rigorously developed on a strong evidence base and is very intuitive to use. In addition, the guidelines are a perfect fit for the way medicine is practised in most countries around the world."
--Ends--
Notes for Editors:
1. The iRefer radiology referral guidelines help referring clinicians select the best imaging test and minimise exposure of patients to ionising radiation. iRefer also helps contain or reduce the whole pathway costs to the NHS by shortening the time to diagnosis and directing treatment. First produced in 1989, iRefer will be published by the RCR in its eighth edition in Spring 2017.
2. A clinical decision support system is a health information technology system that is designed to provide doctors and other health professionals with assistance in clinical decision-making tasks. The RCR and MedCurrent have already worked together on a small-scale, proof-of-concept for delivering iRefer in the MedCurrent Clinical Decision Support (CDS) system.
3. There will initially be three to five pilots on sites in England with others expected to be set up in other parts of the UK and overseas. The pilots will test out the CDS system with iRefer embedded within both primary care and secondary care settings and interfacing with a number of commonly-used clinical information systems. The pilots are expected to be completed during the next 12 to 15 months.
4. The Royal College of Radiologists has over 10,000 Fellows and members worldwide, representing the specialties of clinical oncology and clinical radiology. The College sets and maintains the standards for entry to and practice in the specialties in addition to leading and supporting practitioners throughout their careers.
5. MedCurrent's system is designed to work seamlessly with any hospital electronic patient record and GP requesting systems to minimise any impact on workflow. Their proprietary Authoring Studio will help UK hospitals and GPs to make changes rapidly as new guidelines become available. In addition, their Analytics help monitor individual requesting patterns in order to identify areas for improvement.
6. Consultant radiologists are doctors who interpret X-rays, scans and other types of medical images to detect and diagnose disease and injury. Timely, accurate diagnosis using imaging techniques can speed up access to treatment, prevent or reduce hospital stays and offer major cost savings.
7. https://www.england.nhs.uk/statistics/wp-content/uploads/sites/2/2016/08/Statistical-Release-27th-October-PDF-613KB.pdf