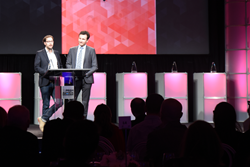 This year's Prism Awards finalists offer particularly outstanding examples of the imaginative range and innovation reach of photonics R&D.
BELLINGHAM, Washington, and PITTSFIELD, Massachusetts, USA (PRWEB) November 21, 2016
Next-generation smart lighting, accuracy-enhancing laser systems for industrial processes, and a hands-free monitor enabling continuous health monitoring in the home are just a few of the outstanding new products named today as finalists for the prestigious 2017 Prism Awards for Photonics Innovation.
The competition is organized by SPIE, the international society for optics and photonics, and sponsored by Photonics Media to honor groundbreaking technology and product inventions based on optics and photonics. Industry leaders will present awards at a gala banquet attended by the who's who of the photonics industry on 1 February during SPIE Photonics West in San Francisco, California.
Awards boost visibility, recognition, and brand equity for companies bringing innovative products to the market. Applications are judged by a panel of leading industry experts, venture capitalists, luminaries, and visionaries.
"The opportunity to watch an idea that has been sparked in discussions in a conference room or on an exhibition floor evolve into a useful and ingenious new photonics-enabled product is both fascinating and inspiring," said SPIE CEO Eugene Arthurs. "We at SPIE have a close-up view, as events such as SPIE Photonics West provide the most dynamic and fertile environments for facilitating that creative process. This year's Prism Awards finalists offer particularly outstanding examples of the imaginative range and innovation reach of photonics R&D. We are grateful to help move the development of laser, illumination, scanning, and other technologies into the applications produced by this year's finalists, and to provide recognition to these outstanding companies through the Prism Awards."
A past winner in the SPIE Startup Challenge — 8tree —is included among this year's finalists, along with a company founded by Nobel Laureate Shuji Nakamura and several returning Prism Awards finalists.
"Outstanding vision and innovation are the hallmarks of the companies and products that win Prism Awards, and this year's finalists embody those traits. From the many exciting entries, this carefully considered list hints at challenges met and a glimpse at the future," said Tom Laurin, President/CEO of Laurin Publishing Co. "Photonics Media admires the global photonics industry's strong spirit of innovation, and we are proud of our decades-strong mission of support for its continuing advancement. As we celebrate the 50th anniversary of the launch of Photonics Spectra magazine, we join SPIE in extending our most enthusiastic congratulations to the 2017 finalists, and we look forward to sharing their stories."
This list of finalists by category includes:
Additive Manufacturing — 3D Printing:
Hybrid Manufacturing Technologies AMBIT™ Industrial 3D Printing System
Multiphoton Optics LithoProf3D
PolarOnyx Tungsten LAM
Biomedical Instrumentation:
EyeQue Personal Vision Tracker
Rapid Biosensor Systems TB Breathalyser
Wasatch Photonics MicroAngio
Detectors and Sensors:
Aeris Technologies MIRA
ALPhANov GoSpectro
Hesai Technologies Drone-Mounted Natural Gas Surveillance System
Luxmux Technology BeST-SLED®
Imaging and Cameras:
e2v 3D ToF solution
TAG Optics TAG Inspector
TruTag Technologies Model 4100 Handheld Hyperspectral Imager
Industrial Lasers:
Amplitude Systèmes Tangor 100 W
Photonics Industries RGH Series
QD Laser 1030- and 1064-nm Ultra-short Pulsed Seeder for Fiber Laser
Materials and Coatings:
Crystalline Mirror Solutions xtal mir
Element Six Single Crystal Diamond
InVisage Technologies NIR QuantumFilm
Metrology:
4D Technology 4D InSpec Surface Gauge
8tree dentCHECK®
Leica Geosystems BLK360
Optics and Optical Components:
ContinUse Biometrics Opto-phone
Nufern NuBEAM Flat-top fiber technology
SoraaLaser LaserLight SMD
Scientific Lasers:
Integrated Optics MatchBox2 Series
Thorlabs Mid-infrared Supercontinuum Laser
TRUMPF Scientific Lasers Dira 200-1
More information about finalist companies and products is on the Prism Awards website: http://www.photonicsprismaward.com.
About SPIE
SPIE is the international society for optics and photonics, an educational not-for-profit organization founded in 1955 to advance light-based science, engineering and technology. The Society serves nearly 264,000 constituents from approximately 166 countries, offering conferences and their published proceedings, continuing education, books, journals, and the SPIE Digital Library. In 2015, SPIE provided more than $5.2 million in support of education and outreach programs. http://www.spie.org
About Photonics Media
Photonics Media, a brand of Pittsfield, Mass.-based Laurin Publishing Co. Inc., publishes Photonics Spectra, BioPhotonics, EuroPhotonics, Photonics Buyers' Guide and Photonics.com. With a collective subscriber base of more than 150,000 worldwide and more than 4 million unique website visits per year, Laurin Publishing's Photonics Media products and publications lead the photonics industry with editorial excellence and integrity -- fostering a tradition of innovation and progress by sharing knowledge, insights and visions for the future. More information at http://www.photonics.com