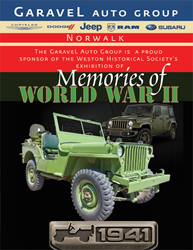 (PRWEB) November 24, 2016
On the 75th anniversary of the start of the Second World War, the Weston Historical Society is proud to present Memories of World War II — an exhibition celebrating Weston and surrounding communities' contributions to the war. The exhibition includes a wide range of artifacts, photographs, armaments, vehicles and memories of that War, many of them from local residents and their families.
Paul Garavel of Garavel Chrysler Dodge Jeep and Ram, a sponsor of the exhibition, also contributed a military Jeep of the era. "The Jeep, also celebrating a 75th anniversary, became famous as an iconic U.S. Army military vehicle and played a contributing role in the allied victory of World War II. After the war, the popular Jeep became the prototype for today's SUV. For over a generation, the Jeep has remained a patriotic symbol of the American spirit. Today, Jeep owners continue the celebration of the American spirit with their loyalty to the Jeep brand. " said Paul Garavel.
Also included in the exhibit are the powerful prints by Weston artist Doug Leigh, depicting his experiences in the Battle of the Bulge as young staff sergeant, plus photos of war materiel representing land, air, and sea forces, and actual uniforms worn by GI's. For further information, or to arrange a family or guided group tour to this special exhibition, please call the director of the Weston Historical Society of, Susan Gunn Bromley, at 203-226-1804 or visit http://www.westonhistoricalsociety.org.
About Garavel Chrysler Jeep Dodge Ram
Since 2002, Garavel Chrysler Jeep Dodge and Ram has been a family dealership. Owner, Paul Garavel, started the Georgetown brand with Georgetown Jeep of Wilton and expanded the same family values with the move to Norwalk, and the purchase Fairfield County Dodge. Through the economic downtown in 2008 that led to the elimination of hundreds of Chrysler stores, Garavel survived. In 2014, Garavel became Connecticut's #1 Chrysler Group store and has since won the DealerRater Dealer of the Year three years in a row. With a sister store, Garavel Subaru, only a few miles down the road, the Garavel family auto group is changing the perception of auto dealers, making their customers, customers for life by providing outstanding quality service through the life of each vehicle.
About Weston Historical society
The Weston Historical Society discovers, collects, and preserves the area's heritage and makes it come alive in the context of local, regional, and world events for our residents and future generations. Founded in 1961, the Society is located on the site of a former working farm with roots going back to the 19th century. Affectionately called the "Coley Homestead", the Society occupies a 3.7acre site which includes the Coley Farm House, Coley Barn Museum with a collection of antique farm equipment, a carriage house, the archive museum, and the new Prue Bliss Education Center. These resources provide a living record of how life has been lived in Weston over the years