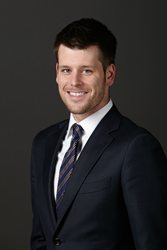 Fairfax, Virginia (PRWEB) November 25, 2016
The Whitestone Young Law Firm, Fairfax, Va. is pleased to welcome new associate Zachery A. Deubler.
Mr. Deubler recently received his JD from George Mason University and is working with the firm's criminal defense team. "I am excited to welcome Zach to the firm, he exemplifies the talent and perservance for which Whitestone Young is known," said Dickson Young, Senior Partner at Whitestone Young.
Beginning with Whitestone|Young PC as a clerk in 2014, Zach became an Associate Attorney at the firm shortly after obtaining his law license. Now a member of the Virginia Bar, Zach focuses primarily on criminal defense and general civil litigation. He works closely with senior partners on research, trial preparation, and drafting pleadings and appellate briefs for clients faced with serious criminal and traffic charges, as well as complex civil litigation.att