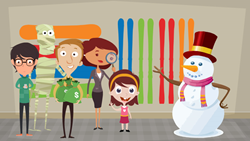 (PRWEB) November 26, 2016
Grand Prairie, Texas: Point of Rental Software, a Texas-based company providing rental and inventory management solutions worldwide, joins Opportunity International in its mission to end global poverty this holiday season. Opportunity International supports local microfinance organizations that provide innovative financial solutions to empower people, create small businesses, and build vibrant communities.
Point of Rental is dedicated to using innovation to improve businesses and lives as well. This holiday season, the software company is joining Opportunity International's mission by donating to the charity for every social "share" of the company's "Frosty the Snowman" parody. Only shares from Point of Rental's Christmas page can be accurately tracked for the corresponding donations to be made.
The video is a rendition of Walter Rollins & Steve Nelson's "Frosty the Snowman," featuring rental store owner Frosty and his use of his new rental software, Point of Rental Essentials, to increase his store's profitability and efficiency.
For each share, Point of Rental will donate five dollars to Opportunity International. To participate, visit https://www.point-of-rental.com/campaigns/point-of-rental-christmas/.
About Point-of-Rental® Software, Inc.
Listed by Inc. 5000 as one of America's fastest growing private companies, Point of Rental Software provides award-winning rental and inventory management solutions to thousands of companies worldwide. Founded in 1983, the company offers smart, scalable software designed for rental companies of all sizes and industries. Point of Rental Elite delivers a customized ERP software for world-class rental corporations. Point of Rental Expert is a full-featured rental management software that optimizes complex operations for advanced rental businesses. And, Point of Rental Essentials is a cloud-based rental and inventory software that streamlines business for straightforward rental operations. To learn which product is right for your business, visit point-of-rental.com or call 1-800-944-RENT (7368).