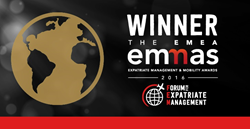 On behalf of FrieslandCampina, we congratulate Communicaid on winning this prestigious award
London, United Kingdom (PRWEB UK) 29 November 2016
The Best Family Support Programme at the 2016 FEM EMMAs awards in London was awarded to Communicaid for the unique suite of intercultural training and support it provides to international assignees and accompanying families.
FrieslandCampina
Communicaid developed the package in close cooperation with RW3 CultureWizard specifically for the international assignees of Dutch multinational FrieslandCampina. This sustainable intercultural training support provides all family members with a comprehensive suite of instructor-led training and online learning tools to help them adapt quickly to the business and social cultural challenges of life on assignment in a new country.
A Cultural Learning Journey That Begins Online
All FrieslandCampina assignees and their families complete CultureWizard's Culture Calculator and are encouraged to use the extensive country profiles to give them an initial cultural perspective on the destination culture and country.
A Diagnostic Consultancy call with a member of Communicaid's in-house specialist team follows next to personalise the learning content to the family's exact requirements. Armed with the cultural profile from Culture Calculator, the carefully selected Communicaid trainer can focus on the biggest cultural gaps and propose concrete strategies to help each family member overcome the inevitable culture shock and become culturally effective – both at work and socially.
Supporting FrieslandCampina Assignees Across the Globe
Key to the success of this collaboration is the global capability of Communicaid and its international network of trainers and consultants. To-date, Communicaid has delivered in-country training in more than 26 countries with locations as diverse as Myanmar, Pakistan and Nigeria.
Continuous Learning
With training delivered before departure and on arrival, CultureWizard forms a crucial element that maintains the momentum of the learning, reinforces key cultural strategies, and gives both assignee, partner and children a huge reference library. The trainers can recommend specific tools and modules that address concrete needs; whether it is the TeamPlace tool, for analysing the cultural make up of a specific group of colleagues, or key cultural tips on one of the more than 150 countries available.
Partners are also able to take advantage of the resources suggested by the trainer and those found on CultureWizard to help bridge the cultural gaps in their new home. Communicaid also involves children in the training, with very practical, hands-on activities to help them understand the new way of life, and introduce them to schooling in their new country. They are frequently involved in cooking or local crafts as a way of introducing different cultural values and are encouraged to share their thoughts with the trainer.
The family support programme provided to FrieslandCampina relies on the strength of the partnership between Communicaid and RW3, whose expertise in instructor-led and online learning combines to create a solution that is even stronger than the sum of its parts.
Marco van der Neut, Global Mobility Manager at FrieslandCampina commented on the award:
"On behalf of FrieslandCampina, we congratulate Communicaid on winning this prestigious award. We are particularly pleased for it to be in recognition of the support that they, in association with RW3, provide to FrieslandCampina"
About FrieslandCampina
With annual revenue of 11.3 billion euros, FrieslandCampina is one of the world's largest dairy companies. FrieslandCampina has offices in 32 countries and employs over 22,000 people. FrieslandCampina's products find their way to more than 100 countries. The Company's central office is based in Amersfoort, Netherlands.
For more information, please visit frieslandcampina.com
About Communicaid
Communicaid is a global culture and communication skills consultancy that assists the world's leading organisations to mitigate the risks and maximise the opportunities of working in a complex and ever-changing international environment. Communicaid provides a complete suite of consultancy services as well as targeted intercultural, language, global leadership and communication skills training.
With training centres in London, Paris, Brussels, Frankfurt and New York, combined with a worldwide network of trainers, consultants and partner organisations, Communicaid is uniquely placed to help develop the global competence of organisations across the globe.
For more information, please visit communicaid.com
About RW3 CultureWizard
CultureWizard is a complete online cross cultural training facility, containing cultural awareness e-learning courses, virtual team training, global leadership assessment tools, and culturally-focused country profiles on 160 countries. For more information, please visit rw-3.com.