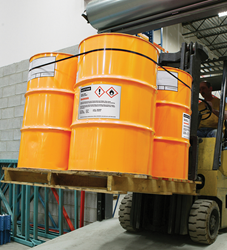 "Now, with the new certification for our DLSdigital™ fleet of UV presses and media, we are bringing that experience to smaller customers and those who require variable imaging as part of the production process." - Jim Kersten, CEO
Itasca, IL (PRWEB) December 06, 2016
At DLS, we are constantly working to keep ahead of industry standards while finding ways to pass cost savings on to our distribution partners.
That's why we are pleased to announce our DLSdigital™ UV printed labels are now BS5609 certified for Section 2 and 3 compliance (Marine Immersion Label testing standard). The media, text, coloring, and images have passed resistant to abrasion, UV exposure and sea water immersion, among other standardized testing qualifications.
This certification allows DLS to create Global Harmonized System (GHS) compliant labels. With chemicals being shipped all over the world, the GHS standard makes it safer for these hazardous materials to be transported by communicating the container's contents.
"We have been producing BS5609 compliant hazardous product labels for many years," states Diversified's CEO, Jim Kersten. "Now, with the new certification for our DLSdigital™ fleet of UV presses and media, we are bringing that experience to smaller customers and those who require variable imaging as part of the production process.The end result is fully certified, high quality, low cost BS5609 labels delivered quickly to end users."
What are the Benefits to Businesses?
Digital UV ink printing is unique compared to other, conventional printing methods because it's FAST, durable, and there are no plate or die changes; making it very cost effective. The quality and speed of UV digital printing lets DLS deliver high-quality GHS labels on approved materials for smaller print runs with quantities as little as 100 labels. DLSdigital™ also allows for custom variable printing for different containers all on one run, and by being GHS certified, we can ensure businesses are operating properly under current regulations. Larger print runs will continue to run on our fleet of flexographic presses that are also GHS BS5609 certified with Section 2 and 3 compliant inks and media.
About DLS
Since 1985, DLS has been a preferred B2B supplier of high-quality, custom-printed pressure sensitive labels. All products, from blank labels to full color high-definition labels, are produced utilizing the latest in flexographic and digital printing technologies. Exemplar of their motto "We only succeed when you do," DLS's dedicated team is passionate about labels and is willing to share their expertise with partnered distributors to help them grow their business. Located in five states and headquartered in Itasca, IL, DLS is well-situated to offer products to customers nationwide. To learn more about the dedicated team at DLS, its exceptional offerings and services, or to receive a quote in 3 hours or less, please visit teamdls.com or call (800) 397-3013.