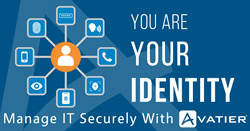 With the successful rollout of MFA Biometrics to Password Station, Avatier now looks to expand this new feature to the other products in the Avatier Identity Management Suite.
Pleasanton, CA (PRWEB) November 29, 2016
A global leader in Identity and Access Management (IAM) software, Avatier Corporation announces at the Gartner Identity & Access Management Summit 2016 in Las Vegas, NV the release of a key security enhancement to its Password Station module. Starting November 29, 2016, Avatier will begin rolling out Multi-Factor Authentication (MFA) Biometrics for its Password Station solution.
Password Station will now become more secure than ever with the introduction of MFA Biometrics technology. Users will be able to authenticate their identity and securely unlock account, reset and synchronize their passwords by using the following:
·       Biometric Face for facial recognition
·       Biometric Voice for voice identification
·       Biometric Fingerprint for fingerprint scanning
Password Station administrators can incorporate one of these methods into their setup, or they can take advantage of Biometric Your Choice to give users the option of authenticating through any of these three methods.
"We continue to give our users high quality products that are easy to use while offering an exceptional cost-savings value and the most secure authentication experience available," explains Nelson Cicchitto, CEO and President of Avatier. "To achieve these goals we must stay at the forefront of new technology and tightly integrate it into our existing systems to protect our customers, brand, and reputation".
Without programming using only checkboxes for easy configuration or with a powerful REST API, Avatier's MFA Biometric solution can be implemented as part of a workflow that requires multiple authentication steps. Additional authentication options that Password Station currently offers include: Secure questions and answers, One Time Password (OTP) email, OTP SMS, Phone, and RSA soon to be announced many more leading MFA providers.
Designed to assist businesses in setting up and maintaining a secure and robust IAM environment while reducing costs by eliminating password-related help desk queries, Password Station meets or exceeds U.S. military security standards.
Avatier has partnered with ImageWare Systems, Inc (OTCQB: IWSY), a leader in mobile and cloud-based, multi-modal biometric identity management solutions that works well in tandem with Avatier's products. "It's good to see Avatier integrate our industry leading biometric MFA product, GoVerify ID, into their leading Identity Governance and Administration technology, says Jim Miller, CEO of ImageWare Systems, Inc. "By partnering with Avatier we open the door to truly secure and safe identity management."
This latest upgrade to Password Station keeps Avatier at the forefront of IAM solutions, offers users a more customized experience, and increases protection against identity theft and other security threats. With the successful rollout of MFA Biometrics to Password Station, Avatier now looks to expand this new feature to the other products in the Avatier Identity Management Suite.
About Avatier
Established in 1997, Avatier has built a reputation for highly-secure and easy to use information management and access governance products. We strive to create robust products that serve our users' needs with a fast installation time, and a user-friendly interface that features a point-and-click GUI that is easy to learn and use. Available individually or bundled together in our signature Avatier Identity Management Solution (AIMS), our software can be set up to meet your current business needs and can be expanded as necessary to match your future growth.
With over seven million licenses sold globally, Avatier continues to provide cutting-edge upgrades to our identity management software in order to facilitate and optimize corporate jurisdiction visibility while significantly reducing operational costs and mitigating all forms of internal and external risks.
Avatier Corporation's main headquarters is located in the San Francisco Bay area with satellite offices operating in NYC, Washington DC, Dallas, Chicago, London, Dublin, Sydney, Singapore and Munich. For more information about Avatier, please visit http://www.avatier.com