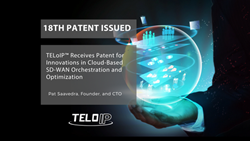 As an early mover, we have been bringing the benefits of software-defined solutions to businesses for over a dozen years
TORONTO, Ontario (PRWEB) November 29, 2016
TELoIP Inc. -- the creator of powerful, software-defined wide-area network (SD-WAN) solutions for the most challenging, business-critical requirements -- has been granted a new patent for cloud-based management of overlay-based, software-defined networking (SDN) systems. The United States patent number 9426029 entitled "System, apparatus and method for providing improved performance of aggregated/bonded network connections with cloud provisioning" protects TELoIP's cloud-based network management innovation. The innovations can empower service providers and end-customers with advanced management, visibility, and control of their networks while enhancing their users' Quality of Experience (QoE).
While SD-WAN technology offers superior performance, security, agility, and cost-effectiveness over legacy networking approaches, efficient management and QoE optimization are critical to unlocking its potential. TELoIP's patented approach is incorporated into the TELoIP Portal, a component of the company's award-winning, software-defined VINO platform. Providing cloud-based orchestration and deep visibility for the company's VINO WAN and VINO Internet solutions, the TELoIP Portal lets service providers efficiently and dynamically manage, monitor and optimize their customers' software-defined networks through a single pane of glass, while customer-centric views provide businesses' IT staff with real-time network insights.
"Our innovations enable us to deliver exclusive advantages in the management of software-defined networking solutions such as SD-WAN, and the grant of this patent both validates and protects their unique nature," said Pat Saavedra, Founder and CTO of TELoIP. "As an early mover, we have been bringing the benefits of software-defined solutions to businesses for over a dozen years, and we continue to build on our technology portfolio to bring even more value to our partners and customers."
The newly-granted patent includes 34 claims, including but not limited to subject matter covering four key areas that industry analysts have highlighted as fundamental to SD-WAN effectiveness:

Dynamic Packet Routing -- intelligent, real-time measurement and automated reconfiguration of packet routing across multiple links based upon QoE metrics, to improve the performance of individual applications and services
Wide Area Network Optimization -- automatically reacting to underlying network conditions, using various network function virtualization (NFV) techniques to optimize performance for cloud-based applications and services such as hosted VoIP
Network Security -- automatic detection of network vulnerabilities, anomalies, and attacks, with dynamic adaptation of security policies for protection in a software-defined perimeter defense system
Cloud Management and Orchestration -- a portal enabling network operators to analyze real-time data and remotely fine-tune system performance through policy updates, leading to enhanced operating efficiency and performance
The newly granted patent extends TELoIP's rich intellectual property portfolio to the orchestration layer of SDN, joining over a dozen awarded and pending patents for the unique data plane and control plane methods and technologies that underpin the company's VINO solutions.
"Today's networking marketplace is growing increasingly competitive, with new SD-WAN and SDN products and services launching almost daily," said Rui Luis, CEO of TELoIP. "We believe the most successful vendors will be those that deliver real innovation while leveraging their intellectual property to give customers and partners the assurances they're looking for when purchasing emerging technologies."
For more information about TELoIP, please visit http://www.teloip.com or call 866-901-3268.
About TELoIP -- TELoIP is the creator of powerful, software-defined wide-area networks (SD-WANs) for the most challenging locations requiring high availability and business-critical application traffic. TELoIP cloud-managed networks are used by retailers to build carrier-agnostic networks that reduce costs by 50% or more, by financial organizations for secure communications, by health care enterprises to remotely connect clinics, and by service providers to deliver SD-WAN services.
Hundreds of businesses across North America depend on TELoIP's patented VINO architecture to plan and provide secure, lower-cost, higher-performance and more reliable networks for their voice, data, and video communications needs, whether they rely on public or private clouds. Based in Toronto, Canada, TELoIP has been delivering software-defined solutions since 2002. For more information, visit http://www.teloip.com.