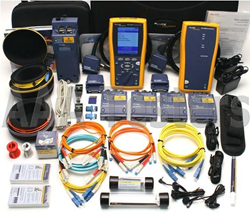 AAATesters.com Buy's NEW Used Underutilized Surplus Test Equipment. Trade in Old Cable Tester or other Teat Equipment for CASH or Credit. AAATesters.com makes it Fast Nice and Easy! Submit @ www.Sell2AAATesters.com
(PRWEB) December 07, 2016
AAATesters announces the addition of Fluke Networks DTX and DSX CableAnalyzer models to its product category. The company now offers refurbished Fluke DTX-1800, DTX-1800-M, DTX-1800-MS, DTX-1800-MO, DTX-1800-MSO and DTX-1800-O Models with fiber DTX-MFM2 DTX-SFM2 modules and DTX-QUAD-OTDR kits and Fluke DSX-5000 LAN Cable Certifier.
The Fluke DTX-1800 CableAnalyzer is one of the most popular on the market today and lives up to its reputation. Most network cable contractors use the Fluke DTX-1800 for their copper Cat5, Cat5e, Cat6 and Fiber Multimode, Single Mode and OTDR testing needs.
This LAN tester can test a Cat6 cable in 9 seconds and perform fiber certification five-times faster with DTX-SFM2 or DTX-MFM2 fiber modules. Remarkably accurate when it comes to troubleshooting, the Fluke Networks DTX-1800 can reduce testing budgets by up to 33% with its efficiency and speed. The CableAnalyzer also complies with TIA/ISO standards.
Easy To Use LinkWare Test Software with Fluke
The DTX-1800 analyzes saved test results in the LinkWare software, which has a user-friendly interface. With the Fluke CableAnalyzer, LinkWare can create professional looking test results that can be sent to the client via e-mail. These files are in PDF format, and there is a colorful one-page test result created for each cable certified. This page includes the wire map diagram of each conductor within the cable and lists the Pass/Fail for the parameter tests and all of the associated measurements for each test. The test results also include the total length of each of the four pairs of the cable.
This DTX1800 CableAnalyzer from Fluke Networks is the tester for today's contractor's present and future needs. Options and Kits:

DTX-1800-MS 120 Cable Analyzer with DTX-MFM Multimode Fiber Modules and DTX-SFM Singlemode Fiber Modules
DTX-1800-M 120 Cable Analyzer with DTX-MFM Multimode Fiber Modules
DTX-1800-MO 120 Multimode Fiber Kit contains DTX-1800-M 120, DTX-OTDR-QMOD, NFK2-Launch cables
DTX-1800-MSO 120 DTX 1800 OTDR/LL KIT US
DTX-1800-O DTX-1800 with OTDR-KIT
DTX-1800-V 120 CableAnalyzer Kit with DTX-GFM Gigabit MultiMode Module
DTX-QUAD-OTDR 120 DTX-QUAD-OTDR DTX OTDR US Kit
DTX-10GKIT DTX-1800 Alien Crosstalk Analyzer Kiter certification
DTX-OTDR-QMOD 850/1300/1310/1550 Quad OTDR Module
The Fluke DTX-1800's advanced diagnostics make troubleshooting for faults twice as quick. This tester identifies the point of failure, including distance from the tester and potential reasons for the fault. It will even offer corrective actions, so senior technicians may solve the problem quickly without having to consult management. The easy to understand wire map function will make repairing shorts, swapped pairs and reversals a breeze for less experienced techs.
The DTX-1800 also delivers when it comes to future-proofing by being able to measure 10 gig cable performance, including alien crosstalk, in full compliance with industry standards to 500 MHz. This includes Cat6a cabling.
The Fluke Networks DTX-1800 will reduce set-up time for reports and gathering test results as it allows technicians to sort test results by cable ID, by date or by pass/fail to quickly identify the tests they are looking for.
Fluke Networks DTX-1800 CableAnalyzer™ significantly reduces total certification costs, up to 33% a year. CableAnalyzer is three times faster than existing testers with 9-second CAT6 Autotest and 12-second test for fiber certification.
DSX-5000 120 Fluke Networks DSX-5000 1 GHZ DSX Series Cable Analyzer
DSX-5000 120/GLD Fluke Networks DSX-5000GLD 1 GHZ Cable Analyzer with 1 yr Gold Support
Fluke Networks DSX-5000 LAN Cable Certifier
Fluke DSX-5000 LAN Cable Analyzer
The DSX CableAnalyzer copper test solution enables testing and certification of twisted pair cabling for up to 10 Gigabit Ethernet deployments and will handle any cabling system whether it is a Cat 5e, 6, 6A or Class FA. The electrically centered test plug results in the Level V accuracy designation introduced with IEC to support field testing to Class FA, 1000 MHz.
The DSX exceeds the IEC Level V specification with less than half the allowable crosstalk margin, assuring you of higher confidence in results over the full frequency range.
DSX-5000QI 120 Fluke Networks DSX5000QI 1 GHZ DSX Series Cable Analyzer with OLTS Quad and Fiber Inspection
DSX-5000QOI 120 Fluke Networks DSX5000QOI 1 GHZ Cable Analyzer w/ OLTS Quad, OTDR Quad and Fiber Inspection
Refurbished DSX 5000 LAN Cable Certifier Models On Sale Warranty Calibration Backed by The Best Service and Lowest Prices in the Industry.
DSX-5000MI 120 Fluke Network DSX-5000MI 1 GHZ DSX Series Cable Analyzer with Multimode, OLTS and Inspection
DSX-5000NTB 120 Fluke Networks DSX-5000NTB Kit with OLTS, OTDR Quad, OneTouch AT 3000
AAATesters offers a wonderful selection of Refurbished Test Equipment, Repair and Calibration Services, Telecom & Broadband Test Equipment, Fiber Optical Testers, Fusion Splicers, OTDRs, Cable Certifier Testers, CATV Meters, Site Masters, Field Test gear and much more. For more information, please visit http://www.aaatesters.com/.