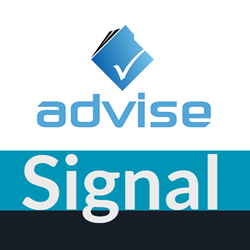 Signal boasts coverage in 89 jurisdictions and provides alerts when holdings pass defined threshold values.
London (PRWEB) December 01, 2016
Jupiter Asset Management has selected Signal, a threshold monitoring and reporting solution from Advise Technologies, to manage its growing substantial shareholding disclosure obligations.
Advise Technologies, an industry leading provider of regulatory reporting software, offers two modules – Substantial Shareholding and Position Limits – in its Signal application.
The Substantial Shareholding module enables alerting and reporting related to short sales, takeover panels, or any beneficial ownership that depends on shares or their equivalents. The Position Limits module monitors a user's holdings in relation to limits on certain contracts, typically commodity or option contracts, imposed by a regulator or exchange.
"We've worked with Advise in the past to automate our AIFMD Annex IV reporting, so it made sense to expand our regulatory workflows with them," says Lance DeLuca, Head of Operations at Jupiter Asset Management. "By adding Signal, we'll be able to create consistency and operational efficiency in managing our reporting."
Signal boasts coverage in 89 jurisdictions and provides alerts when holdings pass defined threshold values. Users can also set warning notifications so they know when holdings are approaching a disclosure requirement. Where applicable, Signal generates prepopulated disclosure notifications that can be reviewed and submitted to regulators.
In the compliance space, investment managers need accurate data. Signal offers continuously updated data from regulators and exchanges. Advise's Best Practices team, comprised of regulatory attorneys and industry experts, reviews regulatory news for updates on a daily basis and alerts clients when changes occur.
Advise is uniquely positioned to understand and react to developing international regulations because of its experience offering reporting solutions for many other regulatory disclosures – including AIFMD Annex IV, Form ADV, Form PF, and Open Protocol – through its Consensus RMS platform.
"The regulations will keep coming, and we want people to know that information and assistance is available," says Adam Capon, Advise's Managing Director and Head of Client Services. "Finding new solutions to these problems has always been our goal."
################
About Advise Technologies
Advise Technologies is a premier provider of reporting and compliance software for investment managers. With four flagship products – Consensus, Notes, Signal, and Vault – it provides innovative solutions to the regulatory and operational challenges faced by clients. Advise was founded in 2010 and is headquartered in New York with offices in major European financial centers. For more information: http://www.AdviseTechnologies.com
About Advise's Best Practices team
The Advise Technologies Best Practices team, which consists of regulatory attorneys and fund accountants, continuously monitors regulations globally to evaluate their effects on investment managers. The Advise Best Practices team periodically hosts informational webinars on developing regulations.
The next webinar will take place on 7 December 2016 and will cover European short sale regulations and reporting challenges. More information on this presentation can be found on the Advise Technologies website: http://www.advisetechnologies.com/regulatory/regulatory-news/webinar-european-short-sale-reporting.aspx