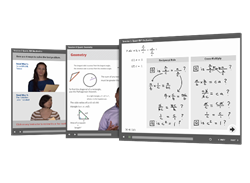 "The product is authentic in aiming to create a student-teacher connection in a usually sterile and staid delivery mode. What makes Interact™ great is what makes our classrooms great too," said Rey Fernández, the company's VP & General Manager
New York, New York (PRWEB) December 02, 2016
Leading education company Manhattan Prep has made it through the penultimate stage of judging to be shortlisted for the Reimagine Education Awards 2016 Digital Content Award. In response to the evolving needs of higher education, the Reimagine Education Conference & Awards has recognized Interact™, Manhattan Prep's interactive, proprietary e-learning platform that uses intuitive technology to guide the student on a customized study path tailored to their learning needs.
The Reimagine Education Conference & Awards 2016, organized by career and education network QS in collaboration with the esteemed Wharton School of the University of Pennsylvania's SEI Center for Advanced Studies in Management, will take place in Philadelphia from December 5-6 at the Inn at Penn, a Hilton Hotel. The concept behind the Awards is that traditional education is both insufficient and overly expensive for the needs of modern students, and therefore must be "reimagined." An international panel of 40 distinguished judges has been selected to honor "innovative education pedagogies enhancing learning and employability." By shortlisting Interact™, the panel has deemed the product to be one of the 120 most innovative educational projects among over 500 submissions.
Created to immerse students in an engaging, on-demand, self-paced learning experience, Interact™ offers full GMAT and LSAT prep courses in which students can determine their own paths to success. Guided entirely by 99th percentile Manhattan Prep instructors, the program aims to connect students to comprehensive, interactive instruction that will benefit them before, during, and after the test.
What makes Interact™ unique?

The platform uses branching video and adaptive technology to replicate the expertise, empathy, and guidance you would receive from a seasoned teacher.
Real teachers work behind and in front of the camera, infusing Manhattan Prep's curricular expertise into every aspect of production and development.
It contains entertaining, comprehensive lessons that cover every topic on the exam.
"It's our deep belief at Manhattan Prep that exceptional teachers are the centerpiece of a transformational learning experience, but featuring teachers in self-study products is a challenge." said Noah Teitelbaum, the company's VP of Instruction & Customer Experience. "Interact™ is our answer to the challenge of creating a self-study product that harnesses the power of great teaching. Being shortlisted for this award is proof that what we're doing is stretching ed tech's boundaries."
Rey Fernández, the company's VP & General Manager, added that "the product is authentic in aiming to create a student-teacher connection in a usually sterile and staid delivery mode. What makes Interact™ great is what makes our classrooms great too."
If Interact™ is selected as the 2016 Digital Content Award winner, it will have been deemed "the project that...creates the most compelling, detailed, informative digital content, with an interface or medium designed to support learners everywhere."
Try Interact™: