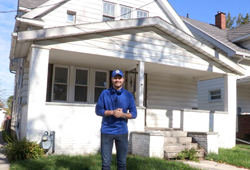 This home giveaway is the perfect chance for us to spread some holiday cheer and give a great gift to a deserving family
Toledo, Ohio (PRWEB) December 02, 2016
List'n Sell Realty announced Tuesday they are seeking the public's help to give away a house to a deserving Toledo resident this holiday season. The single family home on Austin St. is currently undergoing renovations and will be ready for a new family before the holidays. Video submissions are due by 11:59 pm on Monday, Dec. 5.
"List'n Sell Realty is excited to give back to the community of Toledo," said Engelo Rumora, owner of List'n Sell Realty "This home giveaway is the perfect chance for us to spread some holiday cheer and give a great gift to a deserving family."
Interested parties should submit a video entry on why they or another family need a new home. Video submissions can be entered at http://www.facebook.com/listnsellrealty/ Submissions will be accepted until Monday, Dec. 5. The public is encouraged to participate by voting on their favorite videos until Monday, Dec. 12.
"The renovations are going really well," Rumora said "List'n Sell Realty is working hard to turn this house into an amazing home and the renovations should be done by the first week of December."
List'n Sell Realty offers its agents a 100% commission on every sale and a special first of its kind referral program for their customers. Known as the "one click broker," with a completely virtual experience, List'n Sell Realty wants to completely revolutionize all real estate transactions.
For more information about List'n Sell Realty or the home giveaway, visit http://www.facebook.com/listnsellrealty/