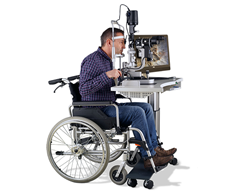 This ergonomic, high-quality range of tables meet the advanced requirements needed in the workplace of any eye specialist. They have been customised to support the individual requirements of all of the Haag-Streit instruments.
Harlow, Essex (PRWEB UK) 2 December 2016
Haag-Streit UK (HS-UK), the leading manufacturer and distributor of gold-standard optometry and ophthalmic equipment, is pleased to announce the launch of the HSM 600 range of tables in the UK.
The HSM 600 is a new series of instrument tables which intelligently combine wheelchair accessibility and a small footprint. The tables boast an ergonomic design, ensuring that the patient has a comfortable examination. Asymmetric dimensions provide an accessible approach for wheelchair users and the compact footprint allows the table to fit into even the smallest examination rooms.
The HSM 600 range is designed to ensure that all equipment can be neatly stored and all cables are fully-enclosed. The high-quality of the materials used promises exceptional stability and durability, making the table excellent value-for-money.
Sam Laidlaw, HS-UK Product Manager, said "This ergonomic, high-quality range of tables meet the advanced requirements needed in the workplace of any eye specialist. They have been customised to support the individual requirements of all of the Haag-Streit instruments, specifically designed for the Octopus 900 and Octopus 600 perimeters, LENSTAR biometer and the Haag-Streit slit lamp family."
For more information on HSM 600 tables, please call Haag-Streit UK on (01279) 883807 or email info(at)haag-streit-uk(dot)com