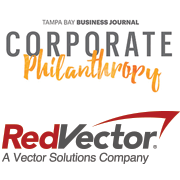 Service is a cornerstone of the RedVector's culture and corporate strategy, and I am very proud of our team for going above and beyond to serve our community
Tampa, FL (PRWEB) December 02, 2016
RedVector, the leader in eLearning and performance management solutions for the architecture, engineering, construction, industrial and facility management industries, was named a 2016 Corporate Philanthropy Awards Finalist by the Tampa Bay Business Journal this month for outstanding philanthropic efforts.
RedVector believes in providing access to learning, resources and other forms of performance support in order to help others achieve measurable improvements. To expand this commitment to the local community, RedVector works with more than a half-dozen Bay-area charities and non-profits.
RedVector was recognized for volunteer efforts with Make-A-Wish (Suncoast Chapter), Humane Society of Tampa Bay, Habitat for Humanity (Hillsborough), A Kid's Place of Tampa Bay, Susan G. Komen Metropolitan Ministries and more.
"Service is a cornerstone of the RedVector's culture and corporate strategy, and I am very proud of our team for going above and beyond to serve our community," said Suzi France, RedVector Director of Talent Acquisition. "We will continue to mobilize our people and resources to lead positive social change."
RedVector is proud to add a second "Corporate Philanthropy Award Finalist" designation to its long list of achievements and awards. TBBJ will hold an awards ceremony Friday, December 9 to recognize RedVector and its fellow Tampa Bay Corporate Philanthropy Award Finalists and to name a Benefactor of the Year.
About Tampa Bay Business Journal
Tampa Bay Business Journal is a division of The Business Journals, which provide comprehensive coverage of business news at the national, state and local level. The Business Journals boast more people, publications and websites covering our nation's business than any other business media organization.
About RedVector
RedVector sets the standard for excellence in online continuing education, training and performance management solutions for the architecture, engineering, construction (AEC), industrial and facility management industries and holds nearly 100 state and national accreditations. RedVector offers individual courses as well as large-scale corporate training solutions with a full range of tracking and reporting features. RedVector is a division of Vector Solutions, which also owns TargetSolutions, a leading provider of online public safety training and performance management solutions for EMS, fire, law enforcement, cities, schools and public works sectors. Altogether, Vector Solutions strives to help its customers become more effective, efficient and safe via online training and performance management solutions. For more information, call 1-866-546-1212 or email marketing(at)redvector(dot)com.