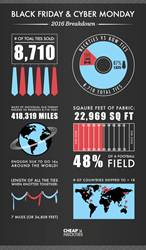 It is truly an astonishing number that gives us an all new respect for the silk worm
San Francisco, CA (PRWEB) December 06, 2016
Online tie retailer, Cheap-Neckties.com, lured customers to its site with steep discounts following Thanksgiving. Within 48 hours the retailer sold a record number of ties, made up from a total 418,319 miles of silk thread - long enough to reach 16 times around the world. Once the sale had passed, the retailer decided to highlight some of their record sales numbers via this infographic.
"We knew right away that we would break a new record," says Cheap-Neckties.com founder Hendrik Pohl. "Within minutes of us pressing send on our sales newsletter, we realized that our customers couldn't say 'NO' to our offer", says Pohl. The retailer offered customers a sitewide 40% discount. "It was our biggest discount ever, offering customers thousands of different handmade designer ties for as low as $3. We simply needed to sell huge volumes in order to make up for the skinny profit margins. We weren't disappointed," says Pohl.
In 48 hours the retailer sold 8,710 ties. The total fabric needed to make these ties is large enough to cover almost half of a football field; and, if the 8,710 ties sold were to be deconstructed into their original silk thread, it would be long enough to wrap the world 16 times in fine silk thread. "It is truly an astonishing number that gives us an all new respect for the silk worm," says Pohl.
For more information please visit:
http://www.cheap-neckties.com/blog/sales-stats/