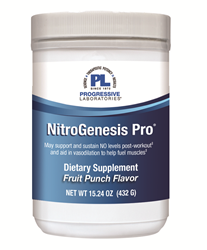 New York, NY (PRWEB) December 05, 2016
Progressive Laboratories™ is one of the first supplement companies to use a patent-pending blend of L-Citrulline and glutathione to enhance production of nitric oxide (NO).
NitroGenesis Pro™ is made with Kyowa's Setria® Performance Blend, a combination that studies have shown to produce NO twice as effectively and sustains NO blood levels twice as long as comparable doses of L-Arginine or L-Citrulline.* Nitric oxide is important for proper functioning of the body's circulatory system, plus removal of ammonia and lactate. Keeping NO levels at optimal levels can diminish fatigue, support immune health and provide antioxidant protection.*
NitroGenesis Pro™ leverages Setria® Performance Blend to support healthy circulation and oxygen delivery to working muscles. It is designed to help protect muscles from oxidation and moderate lactate dehydrogenase activity during intense exercise.*
Kyowa's L-Citrulline and Setria® Glutathione work in concern to help delay the onset of muscle fatigue, maintain acid-base balance, promote aerobic energy production in muscle cells. Because L-Citrulline is not readily available through proteins, taking NitroGenesis Pro™ is a good way to ensure levels of this unique amino acid stay where they need to be.
Setria® is a well-studied and unique form of L-Glutathione that is stable when exposed to stomach acid for enhanced absorption.* It provides intracellular antioxidant support, benefits cellular detoxification, and supports a healthy immune response.* Glutathione helps protect the body's cells from the damaging effects of oxidative stress and toxins.* Setria® Glutathione is made through a patented fermentation process and is patent-pending for increasing natural killer (NK) cell activity. It is pure, vegetarian, and allergen-free.*
NitroGenesis Pro™ comes in an easy-to-use, naturally flavored and sweetened powder beverage mix. Pregnant or breast-feeding women and people taking nitrates for heart disease, blood pressure medications or ED drugs should not use NitroGenesis Pro™, as it may cause an unsafe drop in blood pressure. Progressive Labs recommends talking to your doctor before taking NitroGenesis Pro™.
For more information on NitroGenesis Pro™, click here: https://www.progressivelabs.com/product.php?productid=17202&cat=289&page=1
About Progressive Labs
Progressive Laboratories was founded in 1972 by a nutritionist passionate about serving and expanding his patients' ability to optimize health. Since then, our mission has always been clearly defined: we strive to help patients maximize their potential for health through the science-based use of targeted nutraceutical products. Our mission, our passionate commitment, is to apply the growing body of nutrition science as it applies to health and wellness to produce the finest targeted nutrient and botanical formulations in the world. For more information, visit https://www.progressivelabs.com/index.php.
About Setria® Performance Blend
Setria® Performance Blend is a new, branded, patent-pending blend of L-citrulline and Setria® glutathione – Kyowa's Setria® Performance Blend. Studies have shown that this blend produces NO twice as effectively, and sustains NO levels in the bloodstream twice as long as comparable doses of l-arginine or l-citrulline.
Setria® Performance Blend may:

Support NO levels post-workout*
Sustain NO levels post-workout*
Aid in vasodilation to help fuel muscles*
For more information about Setria® Performance Blend and Setria® Glutathione, visit http://setriaglutathione.com/setria-glutathione-and-l-citrulline-performance-blend and http://www.SetriaGlutathione.com.
About Kyowa Hakko USA
Kyowa Hakko USA is the North & South American office for Kyowa Hakko Bio Co. Ltd., an international health ingredients manufacturer and world leader in the development, manufacturing and marketing of pharmaceuticals, nutraceuticals and food products. Kyowa is the maker of branded ingredients including Cognizin® Citicoline, Lumistor® L-Hydroxyproline, Pantesin® Pantethine, Setria® Glutathione, as well as Sustamine® L-Alanyl-L-Glutamine. For more information, visit http://www.kyowa-usa.com.
*These statements have not been evaluated by the Food and Drug Administration. This product is not intended to diagnose, treat, cure, or prevent any disease.