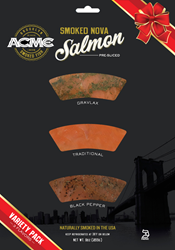 "We're excited to release this newest addition to the Acme line of smoked fish products. With its range of assorted flavors, we're certain the Variety Pack will be a favorite for Holiday entertaining."
Brooklyn, New York (PRWEB) December 06, 2016
Acme Smoked Fish today announced the launch of its premium Smoked Salmon Variety Pack under its Acme brand. Beginning December 1st, 2016, the new ready-to-eat delicacy will be available at Shop Rite, Hannaford, Fairway, Morton Williams, Adams Fairacre Farms, Foodtown, Weis and Winn Dixie Supermarkets.
Acme's exquisite 9 oz. Variety Pack, ideal for family gatherings or sharing, is produced in Brooklyn, New York, the Smoked Fish Capital of the United States. Four generations of curing and smoking techniques provide its delectable cold-smoked, buttery rich taste. The Variety Pack presents 3 oz. of each outstanding flavor: Gravlax, Traditional and Black Pepper.
Gravlax is seasoned with dill to recreate the unique style of an old Scandinavian tradition; Traditional is our original smoked salmon, following a 100-year-old family recipe. Black Pepper is coated with cracked, black pepper; this salmon flavor provides a uniquely spicy and smoky experience.
"We're excited to release this newest addition to the Acme line of smoked fish products," explained Ellen Lee-Allen, Senior Marketing Manager of Acme Smoked Fish Corporation. "With its range of assorted flavors, we're certain the Variety Pack will be a favorite for holiday entertaining."