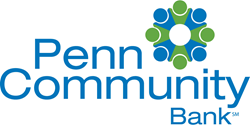 DOYLESTOWN, Pa. (PRWEB) December 05, 2016
Penn Community Bank is pleased to announce that it plans to open a new branch in Warminster, its 23rd retail location in Bucks County.
The new bank location is expected to open in February 2017, subject to regulatory approval, at a former bank building at 601 Louis Drive, Warminster.
"This is an exciting expansion for Penn Community Bank and is a great example of the momentum that we have built throughout this year," said Jeane Coyle, President and CEO of Penn Community Bank. "We already have customers in the Warminster and Ivyland area, and we look forward to serving them and to inviting new customers to come discover the Penn Community Bank difference."
The Warminster branch joins Penn Community Bank's network of 22 retail locations and two administrative centers throughout Bucks County. It will be the first branch that services the Warminster – Ivyland area, providing a more convenient location to customers in Northampton and Warminster townships.
"We are dedicated to providing our customers with excellent service and convenience," said Jacob Iampietro, Director of Retail Banking for Penn Community Bank. "The new location in the middle of Bucks County enables us to engage with that community on a personal level."
The Warminster location is the first new addition to the existing branch network originally formed by the unification of First Federal of Bucks County and First Savings Bank of Perkasie in 2015. With expansion into the Warminster market, Penn Community Bank is continuing to strengthen mutual, independent banking in the area and reinforcing a bank for people who prefer to do business with a financial institution that values people as much as profits.
About Penn Community Bank – Penn Community Bank holds more than $1.8 billion in assets and employs more than 300 people at 22 bank branches and two administrative centers throughout Bucks County, Pennsylvania. As an independent, mutual financial institution, Penn Community Bank is not publicly traded and operates with its long-term mission in mind: to help businesses grow and prosper, to support individuals and families throughout their lifetimes, to strengthen the local economy, and to partner with local organizations to act as a catalyst for positive growth in every market it serves.