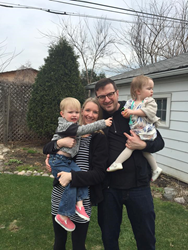 I was desperately trying to think of a way to help Josh and make people aware of what this amazing guy and family are going through
Minneapolis, MN (PRWEB) December 06, 2016
Having a friend, family member or loved one facing off against cancer can be one of life's most trying experiences. With friend Josh Heidkamp, a young husband and father of two small children, diagnosed with very serious cancer and having a baseball sized tumor recently removed from his head, Aaron Shoemaker knew he had to help. He's doing it in an innovative way – by tattooing the name of any person or business (or a business's logo) on his leg who donates $5,000 or more to Josh's medical fund being hosted on the crowdfunding platform GoFundMe. Aaron hopes the unique nature of his fundraising will help bring attention to Josh's story, in a way that make sure both he and his family receive the help they deserve and need.
"I was desperately trying to think of a way to help Josh and make people aware of what this amazing guy and family are going through," commented Aaron. "People are really intrigued by the whole tattoo thing. It's a great way to help Josh while also bringing positive attention to a business, brand or even a person who wants to do the right thing!"
Josh Heidkamp starts chemotherapy soon. He works at a small Minnesota web design firm, is happily married to his loving wife Kim and has two amazing children Edmund, 3 1/2, and Alma, 2. Even the smallest donation would help in this family's time of need and is beyond appreciated.
Donors of $5,000 or more can simply add their name and "Tattoo" in the comment section of their gofundme donation and Aaron will follow up quickly. Each tattoo will be live streamed on Facebook.
For more information be sure to visit:
http://joshsfight.com
https://www.gofundme.com/g8-joshs-medical-fund