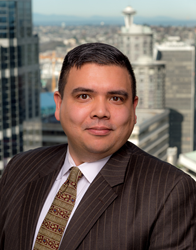 SEATTLE (PRWEB) December 05, 2016
Stoel Rives is proud to announce that Northwest Asian Weekly, the premier newspaper of the Asian-American community in the Seattle region, has named attorney John S. Laney a recipient of its "Top Contributor" award for 2016. Laney is one of eight honorees being recognized for contributions that positively impact the Asian-American community in the Northwest.
Laney has held numerous leadership positions with the Asian Bar Association of Washington and the Filipino Lawyers of Washington (FLOW), and he frequently supports advocacy initiatives through those organizations while mentoring junior lawyers and law students of Asian and Pacific Islander (API) descent.
"This is a special honor for me, and I am proud to help ensure that young people of all ethnic backgrounds are given opportunities to succeed," said Laney, who is of Filipino descent. "We all work and live in the Seattle region, and when our young people succeed, our communities thrive."
Laney's recognition speaks to the commitment that Stoel Rives makes to fostering a culture of inclusion, said Vanessa Soriano Power, incoming managing partner of the Stoel Rives Seattle office.
"John's work in mentoring, advocacy and pro bono work are a direct reflection of the leadership qualities that have made him such an integral part of the Stoel Rives team," Power said. "We are thrilled that he has received this recognition, and we are very proud to be able to count him as part of our diverse family."
Laney accepted the award at Northwest Asian Weekly's 24th annual awards gala on Dec. 2. Additional honorees included Chung-Hyung Lee, President, Seattle Ewha Woman's University Alumni Association; Jason Lee, CEO, Firstech, LLC; Hon. Gary Locke, former U.S. Ambassador to China, U.S. Secretary of Commerce, and Washington state governor; Kim Pham, Publisher / Editor in Chief, Northwest Vietnamese News; Hon. Sharon Tomiko Santos, Washington State Representative; Sili Savusa, Executive Director, White Center Community Development Association; Dorothy Wong, Executive Director, Chinese Information and Service Center.
About Stoel Rives LLP: Stoel Rives is a leading U.S. corporate and litigation law firm. One of the largest national firms focused on energy, natural resources, environmental law and climate change, Stoel Rives also serves the agribusiness, food and beverage, health care, life sciences and technology industries. With more than 350 attorneys operating out of 10 offices in seven states and the District of Columbia, Stoel Rives is a leader in regulatory and compliance matters, business, labor and employment law, intellectual property, land use, real estate development and construction law.
# # #