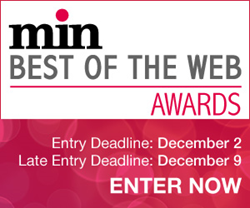 New York, NY (PRWEB) December 06, 2016
Since 2010, min's Best of the Web Awards has identified the most impressive digital initiatives and campaigns among publishers of digital content, including b2b, b2c and custom publications.
As magazine media becomes more digitized, this program spotlights the brands and companies who are leading the charge in advancing the media industry.
With more than 30 categories, min's Best of the Web Awards showcases digital excellence in a number of areas. Categories include:

Digital Team of the Year
Editorial Excellence
Email Newsletter
Integration With Print
Microsite/Custom Website
Native Advertising Content
Overall Use of Video
Social Media Excellence
Viral Content
Website Redesign
Entries require a concise 500-word synopsis and a few supporting materials, including images. The program's final entry deadline is this Friday, December 9 at midnight (ET). For more information, visit the website.
Winners will be announced at an awards celebration in New York City on Tuesday, February 28, 2017.
For questions regarding min's Best of the Web Awards, please contact Zoe Silverman at zsilverman(at)accessintel(dot)com or 301-354-1662.
About min:
min is the industry's trusted source on the consumer and b2b magazine business, reaching thousands of media executives through print, online and in-person events. For more than 60 years, min has been serving the magazine and media community with unparalleled coverage of this ever-changing industry. For more information, visit http://www.minonline.com .