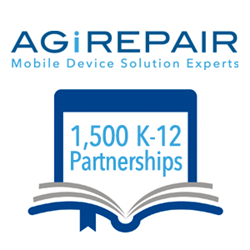 "Supporting over 1,500 school districts is a tremendous accomplishment for our entire team. Our technical skills and experience in supporting 1:1 initiatives is showing through our growing number of K-12 partnerships." - Jeremy Bilsky, Director of Sales
Greensburg, PA (PRWEB) December 08, 2016
AGiRepair announced its continued growth in the education market for mobile device repair, with partnerships exceeding 1,500 K-12 school districts.
"This is a very exciting time for AGiRepair," said John Yetsconish, Executive Director. "Our advanced technical capabilities and ability to handle high-volume repairs quickly, has allowed us to become the trusted repair partner for some of the most innovative 1:1 school districts across the U.S."
AGiRepair has tailored a K-12 Repair Program offering many advantages that school districts are looking for in a partner to support their iPad, MacBook, and Chromebook repairs.

One year warranty on all repairs
Free inbound and outbound shipping
Quick repair turnaround time
Ability to handle high-volume repairs efficiently
Complimentary trial repair
Dedicated customer care team
Online Repair Manager for work order submission and tracking
Acceptance of purchase orders and credit cards
With the implementation of digital learning initiatives on the rise, it's becoming essential to find an experienced repair facility that can conveniently maintain an assortment of devices, while also offering the highest quality and most affordable price in support of digital learning in the classroom.
###
About AGiRepair
AGiRepair is a recognized leader in the mobile device repair and service parts industry, with a steadfast commitment to offering cutting-edge technology repair solutions. For over sixteen years, some of the largest retailers, corporations, repair depots, and educational institutions have entrusted AGiRepair as their essential partner.
AGiRepair is a division of AssetGenie Incorporated; headquartered in Greensburg, Pennsylvania with additional locations in Hudson, Wisconsin and Shanghai, China.
More information about AGiRepair is available at http://www.agirepair.com or by calling 888-325-5713.