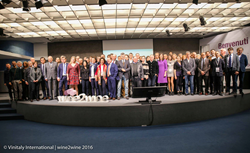 We cannot go without social media and digital marketing. It is part of everyday communication but it's important to know how to use them properly in order to achieve a positive result
(PRWEB) December 08, 2016
Yesterday, the third edition of wine2wine, the forum dedicated to the business of wine, closed with a number of focuses on digital marketing and e-commerce. In exactly the same room where Jack Ma and the then Prime Minister Matteo Renzi had announced 9/9 back in April, Alessandro Felici, CEO of Evlonet, a third party that is well recognised for opening up flagship stores in China, presented today the state of e-commerce in the Asian market.
At the same time, in a different room, Rebecca Hopkins (Folio Fine Wine Partners) and Juliana Colangelo (Colangelo & Partners Public Relations) discussed the three hottest trends of digital marketing: "Facebook Live, virtual tastings and work with social media influencers." "In order to value a brand, we cannot forget it," affirms Colangelo, "we cannot go without social media and digital marketing. It is part of everyday communication but it's important to know how to use them properly in order to achieve a positive result."
The day stared with some of the top players of e-commerce in Italy (WineOWine, Tannico.it, VIno75 and Vinitaly Wine Club). Despite using very different marketing and communication strategies, the speakers agreed on four main aspects: e-commerce is not only about sales but also communication. It is a new segment that can allow medium-to-large Italian companies to grow. It's important to have a vast assortment, not only in terms of price but also in terms of catalogue. A digital winery with a sommelier could represent a valid support for sales.
It was then the turn of "big data", one of the most popular themes in the past few years, that was applied to the Italian winery Marchesi de'Frescobaldi during the session "The big data for the wine industry: how it's used to drive revenue and increase profits," held by Cathy Huyghe (Enolytics) and Giampiero Bertolini (Marchesi de' Frescobaldi). "Big Data is anything that cannot fit in an excel sheet," Mrs Huyghe reminded attendees who opened the session with some interesting numbers from the App Vivino: "20 minutes users, 2985.000 labels scanned". Important data both for wine professionals and wine consumers. Bertolini proved to the public how data analysis can contribute to a more solid planning, higher level of accountability, increased level of productiveness, and finally, higher profits.
The 2016 edition will be remembered for some of the most followed sessions such as the art of storytelling with Felicity Carter and Rebecca Hopkins, the session with Alice Feiring and Angiolino Maule on unconventional wines in conventional markets (USA and Japan), the announcement of the 104 wineries selected by Wine Spectator for the next edition of OperaWine, the testimony of the world of Italian fashion gurus Stefano Ricci and Salvatore Ferragamo who offered the public suggestions on how to penetrate the Chinese market and, finally, the opening of the new Vinitaly International area, wine2digital.
The numbers of this third edition of wine2wine? more than 100 speakers and 42 seminars which represented the ideal stage for wine professionals to meet and share ideas. The mastermind behind this event, Stevie Kim, Managing Director of Vinitaly International, explains: "There was a great affluence of wine professionals and a strong focus, this year, on Europe and the US without forgetting the ever increasing importance of wine education and digital marketing". Once again wine2wine confirms its status as one of the most important forums on the business of wine in Italy
About:
Veronafiere is the leading organizer of trade shows in Italy including Vinitaly (http://www.vinitaly.com), the largest wine and spirits fair in the world. During its 50th edition Vinitaly counted more than 4,100 exhibitors on a 100,000+ square meter area and 130,000 visitors from 140 different countries. The next edition of the fair will take place on 9 - 12 April 2017. The premier event to Vinitaly, OperaWine (http://www.operawine.it) "Finest Italian Wines: 100 Great Producers," will unite international wine professionals on April 8th in the heart of Verona, offering them the unique opportunity to discover and taste the wines of the 100 Best Italian Producers, as selected by Wine Spectator. Since 1998 Vinitaly International travels to several countries such as Russia, China, USA and Hong Kong thanks to its strategic arm abroad, Vinitaly International. In February 2014 Vinitaly International launched an educational project, the Vinitaly International Academy (VIA) with the aim of divulging and broadcasting the excellence and diversity of Italian wine around the globe. VIA this year launched the second edition of its Certification Course and today counts 54 Italian Wine Ambassadors and 3 Italian Wine Experts.