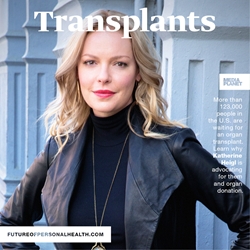 123,000 people in the United States who are currently waiting for a lifesaving organ transplant
New York, NY (PRWEB) December 09, 2016
Mediaplanet today announces distribution of the latest edition of "Transplants," a cross-platform campaign that raises awareness for organ transplantation while encouraging readers to sign up as an organ donor for the 123,000 people in the United States who are currently waiting for a lifesaving organ transplant.
An organ donor can save up to 8 saves through organ donation and enhance many others through tissue donation, however thousands die every year waiting for a donor organ that never comes. Throughout the campaign we look at the impact an organ and/or bone marrow donation can make while highlighting the best resources and services available that are working to make sure we continue to see progress in the transplant field.
Actress & Organ Donation Advocate, Katherine Heigl, speaks out about her family's tragic loss of her brother and the compassionate act that saved four lives in the print and digital campaign. In an exclusive interview with Mediaplanet, Katherine and her mother, Nancy Heigl, share their story in hopes to continue to spread awareness on organ donation.
"We knew that a young man got his heart and two people got their sight back," she says. "Who received them didn't matter other than that they saved other lives." The family's act gave 4 different people another chance and while the decision was tough they knew it was the right one. "Even in the midst of unimaginable pain and sorrow, I knew that we needed to have as much compassion for others as we had for ourselves", Nancy Heigl adds.
The print component of "Transplants" is distributed within the December 9th issue of USA Today in New York, LA, Boston, Chicago, Washington D.C./Baltimore, St. Louis, and Philadelphia with a circulation of approximately 250,000 copies and an estimated readership of 750,000 readers. The digital component is distributed nationally, through a vast social media strategy, and across a network of top news sites and partner outlets. To explore the digital version of the campaign, click here.
This edition of "Transplants" was made possible with the support of the American Society of Transplantation, UNOS, Donate Life, UPMC, UW Health, Katherine & Nancy Heigl, DKMS, University of Utah Health Care, SUNY Upstate Medical Center, American College of Cardiology, Chris Klug Foundation, University Colorado Health, Syncardia, Transplant Solutions and many more.
About Mediaplanet:
Mediaplanet is the leading independent publisher of content-marketing campaigns covering a variety of topics and industries. We turn consumer interest into action by providing readers with motivational editorial, pairing it with relevant advertisers, and distributing it within top newspapers and online platforms around the world.