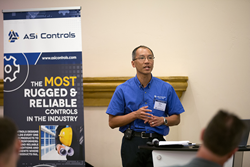 'A dynamic and focused commitment to successful partnerships has been the foundation of our growth and development as a company over the past 30 years,' said Dr. Victor Goldschmidt
SAN RAMON, California (PRWEB) December 11, 2016
ASI Controls celebrated 30 years of successful collaboration with resale partners and original equipment manufacturers (OEMs) across the nation at the company's annual leadership summit October 9-11 in Phoenix, Arizona.
At the conference, representatives of the ASI Controls leadership team shared with a select group of resale partners the company's next chapter of innovation in the areas of marketing, sales and products. Throughout the summit, participants provided valuable feedback that will help to shape the direction of ASI Controls for years to come.
"A dynamic and focused commitment to successful partnerships has been the foundation of our growth and development as a company over the past 30 years," said Dr. Victor Goldschmidt, chairman of the board of ASI Controls. "Simply stated, we could not do what we do without the professionalism, enthusiasm and expertise of our valued resale partners and OEMs. The vital importance of these partnerships—which started with Bill Chapman in 1986—will only continue to grow in the years ahead."
ASI Controls is committed to providing a unique customer experience, with an emphasis on a lower total cost of ownership (TCO) than other manufacturers can typically offer. Most customers find significant TCO savings as a result of ASI Controls' commitment to backward compatibility, industry-leading interoperability and focus on future compatibility (including cloud-based services.) In addition, ASI Controls has earned a reputation for having one of the highest-rated customer service teams in the industry.
"ASI Controls focuses on doing what's right for their partners and their clients—the owners and end-users," said Ben Wagoner, president of Air Control Services, an ASI Controls resale partner.
Dr. Goldschmidt said the ASI Controls leadership team is looking forward to the opportunity to interact with all of its resale partners and OEMs during a spring conference in 2017. The agenda for that event includes the unveiling of exciting new products that will help to propel ASI Controls systems into the digital future.
ASI Controls is an ISO-certified building automation controls platform solution provider for system integrators, controls engineers, building owners and managers, and OEMs. Since its beginning in 1986, the company has been a pioneer in the direct digital controls industry. Among its unique contributions to the industry, ASI Controls introduced the first microprocessor-based intelligent terminal controllers to the U.S. market in 1987 and now provides controls for customers throughout the world.