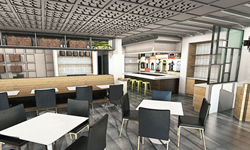 (PRWEB) December 11, 2016
Al Pastor and Bella Vista, the two restaurant concepts heralded by former Stephen Starr alums Justin Weathers and Chef Joe Monnich, will open its doors to the public at 4pm on Thursday December 15th.
Both restaurants are located in the expansion area of the Eagleview Town Center, "Each restaurant will have its own distinct identity," said Weathers. "But, common among both locations will be amazing food and exceptional service. We're excited to show everyone what we've created."
Chef Joe Monnich, formerly of The Dandelion and Parc in Philadelphia, will oversee the culinary development and presentation at both restaurants. "Both restaurants will express authentic flavors with a fresh, modern approach," says Monnich.
Al Pastor's menu will feature a wide range of Mexican influences with features such as Big Eye Tuna Ceviche, Barboaca Lamb Tacos, and Squash Blossom Quesadillas. The signature Pork Belly Al Pastor Tacos feature a house-roasted pork belly with pineapple, onions, and lime.
Bella Vista will showcase a more trattoria-style menu with seasonal charcuterie and cheese boards, veal and mushroom ragu over strozzapreti pasta, signature house pizzas, and 32 oz porterhouse to share amongst the table. "We will change the menu almost daily to feature only the freshest ingredients," says Monnich.
Reservations are encouraged for opening weekend and can be booked on the restaurants' website http://www.eatalpastor.com and http://www.eatbellavista.com