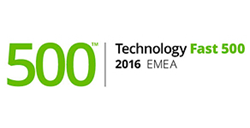 "As a company striving to offer the best technology solutions and customer service we are honoured to be recognised for our progress and growth."
Dublin, Ireland (PRWEB) December 13, 2016
Vizor Software has been named to the Deloitte Touche Tohmatsu's (DTT) Technology Fast 500 Europe, Middle East and Africa (EMEA), one of the most objective rankings for the technology, media and telecommunications (TMT) industries.
Vizor ranked 174th overall in the Deloitte Technology Fast 500 2016 programme after being automatically entered in the annual ranking by placing 5th of 50 in the Deloitte Ireland Technology Fast 50 programme in November.
"As a company striving to offer the best technology solutions and customer service we are honoured to be recognised for our progress and growth," said Ross Kelly, Joint CEO of Vizor Software. "This ranking is recognition for everyone at Vizor who do their best everyday to deliver innovative solutions and services to our clients."
Now in its sixteenth year, the Fast 500 EMEA program was created to recognise the effort and dedication of the 500 fastest growing technology companies in Europe, the Middle East and Africa (EMEA). It recognises both public and private companies headquartered in the EMEA that have demonstrated exceptional growth in turnover over the last four years.
The full list of 2016 ranked companies, as well as additional details on the Deloitte Touche Tohmatsu's (DTT) Technology Fast 500 program, can be accessed at https://www2.deloitte.com/global/en/pages/technology-media-and-telecommunications/articles/technology-fast-500-emea.html
About Vizor Software
Vizor Software has been the standard for financial regulatory technology since 2000. Leading the way in regulatory supervision software, Vizor Software is trusted by Central Banks and Financial Regulators from around the globe for the collection, validation and analysis of highly complex data from Financial Institutions. Serving the needs of financial regulators in more than 30 countries, Vizor is a trusted partner of large consulting firms and leading XBRL toolset providers. Employing a collaborative, agile approach to implementing regulatory solutions, Vizor simplifies and strengthens financial regulation systems. You can learn more and visit Vizor at http://www.vizorsoftware.com or by following Vizor on Twitter, LinkedIn, Google+ and Pinterest.