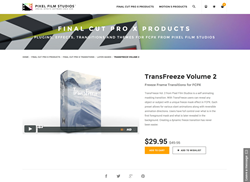 TransFreeze Volume 2 is a self-animating masking transition that allows FCPX editors to reveal any object or subject with a unique freeze mask effect
Aliso Viejo, California (PRWEB) December 13, 2016
"TransFreeze Volume 2 is a self-animating masking transition that allows FCPX editors to reveal any object or subject with a unique freeze mask effect," said Christina Austin - CEO of Pixel Film Studios.
TransFreeze Volume 2 provides Final Cut Pro X users the means to create a unique freeze frame transition from one clip to the next.
To use FLIP OUT presets, choose a video clip and hold the position of a frame using the hotkey "Shift + H". Next, drag a TransFreeze preset into the FCPX timeline and align it to the frozen frame. Lastly, use the built-in masking tool to cut-out a section of the video footage and compound it.
To use FLIP IN presets, choose a video clip and freeze the first frame of the video using the hotkey "Shift + H". Use the built-in masking tool to cut-out a section and compound the clips together. Place the compounded clip above a second video file to transition seamlessly.
TransFreeze includes a custom masking tool that allows FCPX users to mask out any subject with a few simple clicks. Start by hitting "clear" to reset the points and enable guides. Next, click around the subject to create a custom mask. To add more points on the mask, simply double-click along the bezier. To delete a point, hold down the "option" key & double click. To adjust the curvature of a tangent, double click on the point connecting two vectors.
TransFreeze Volume 2 features intuitive customization options that are located in the top-right inspector window. With easy sliders, editors can control the angle of view and add depth of field to the transitioning scene. Additionally, users can alter animation direction of the cut-out and background with a simple anchor point control. Creating a dynamic freeze frame transition in Final Cut Pro X has never been easier.
Established in 2006, Aliso Viejo, California-based Pixel Film Studios is an innovative developer of visual effects tools for the post-production and broadcast community. Their products are integrated with popular non-linear editing and compositing products from Apple FCPX. Apple, the Apple logo, Mac OS X, and Macintosh are registered trademarks of Apple Inc. in the U.S. and/or other countries. All other trademarks and trade names are the property of their respective owners.