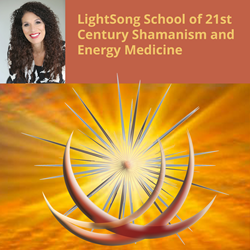 The New Year is the only time that the entire world is synchronized in harmony of renewal.
Portland, Oregon (PRWEB) December 14, 2016
LightSong School of 21st Century Shamanism and Energy Medicine, a 22-year old institute and healing center that annually welcomes numerous people from around the world, has announced that it will be offering its Level 1 "Through the Rabbit Hole" class at its Portland, Oregon campus on January 27-29, 2017.
The highly-acclaimed class -- which is also available for online enrollment at any time -- provides students with a strong foundation in working with Spirit in a shamanic context. Students can be in search of insight to achieve personal goals and objectives, or they may wish to forge a learning path that ultimately leads to helping others in a voluntary or professional capacity. Current health care professionals from the conventional, complimentary, auxiliary and alternative fields are also invited to attend the course, so they can add powerful new tools and methods to their roster of healing modalities.
"The New Year is the only time that the entire world is synchronized in harmony of renewal," commented Jan Engels-Smith, a healer, author and instructor who founded LightSong in 1994. "This is the ideal time for people from all walks of life to activate their intentions for personal growth, exploration and new beginnings. We also urge people to enroll now, because we anticipate the class being booked solid well in advance."
Aside than having an open mind and heart, there are no prerequisites for the interactive and inspiring 3-day class, in which students will learn how to:
Foster a partnership with the spirits, spiritual teachers and power animals.
Tap into a source of wisdom for solving problems, gaining clarity about life's circumstances, and building awareness of the different worlds beyond.
Discover who one truly is as part of a quest to answer the pivotal question: "who am I?"
Identify dreams, purpose and longings, and get in touch what is offered by 99 percent of reality that the vast majority of people never encounter.
Upon completion of the class, students will have the opportunity to deepen their understanding and experience by enrolling in Level 2, Level 3 and Level 4 of the curriculum, all of which are will be offered in 2017. They can also customize their personal learning path by enrolling in a variety of elective courses, or by pursuing one of the school's certificate or degree programs.
Added Ms. Engels-Smith, who will be teaching the class: "Journeying is the foundational tool for shamanic study and healing, and provides the passageway used for centuries to obtain information from other realities. This first level of through the Rabbit Hole is the starting point for an experiential transformation that is beyond words. It is not just an academic learning event, it is a profoundly life changing experience!"
For more information on Through the Rabbit Hole Level 1, including details on registration and fees, visit http://lightsong.net/all-lightsong-shamanic-courses/core-courses/lv-1-rabbit-hole-basic-shamanic-journey-skills/.
For all other details including student inquiries and media requests, contact jan(at)lightsong(dot)net.
About LightSong School of 21st Century Shamanism and Energy Healing
Led by its founder and acclaimed Shamanic practitioner and teacher Jan Engels-Smith, LightSong School of 21st Century Shamanism and Energy Medicine is dedicated to the cultivation of thriving, interlaced communities of well beings through the exploration and practice of shamanism and alternative energy medicine. The school offers the first accredited energy medicine curriculum of its kind, including a program for students seeking their Doctorate degree in Shamanism (Sh.D.). Learn more at http://www.LightSong.net.