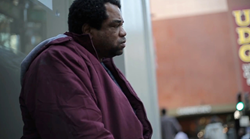 "I've experienced the rich boy life, I've experienced the jail life, I've experienced the crime life, I've experienced the drug life. I know what success is, but I have a fear of it, that is my biggest downfall."
Boston, MA (PRWEB) December 14, 2016
IM Boston launched their most recent #BostonHighlight with the story of a man who has experienced wealth, poverty and everything in between.
The video released is entitled "Creativity in the Face of Adversity" and it follows the life of Wendell W. Wallace as he tells his story of how he got to where he is today. He starts off by retelling the story of how he was shot in the head at the age of seven after a family member forgot to use the safety. He was told that he was never going to be able to lead a normal life after that, but that diagnosis only made him work harder. From there he recalls overcoming that trauma and attending college where he was introduced to cocaine for the first time, a substance that would take hold of his life. Wendell talks about how he would do anything in order to get the money to buy more, which lead to a series of incarcerations and brought him to where he is today: homeless.
What has kept him clean since then is the art that he creates. Wendell hopes to continue with his drawing and start writing his many stories down to help him and others persevere. He also does his best to stay on the right path for the hope that one day he will be able to once again have a connection with his estranged wife and daughter.
In this video Wallace states "I've experienced the rich boy life, I've experienced the jail life, I've experienced the crime life, I've experienced the drug life. I know what success is, but I have a fear of it, that is my biggest downfall." The last part of this statement is something that many people face, it is a part of what makes us human. Wendell W. Wallace is a citizen of Boston, one that people walk by daily and often do not see.
There are many stories within Boston that are worth sharing, and IM Boston intends to highlight as many as possible. For more information about IM Boston, follow #BostonHighlights or view the full story, visit the website at https://imboston.com/.
About IM Boston: IM Boston is an online magazine and community that was born out of the idea that everyone has a voice and should be heard. No matter who you are; your nationality, background, living situation, income level, what path you chose for your career, you have a story. It's interesting when you stop and actually listen to the people around you, the people of Boston, you'll be amazed at what stories you'll find.