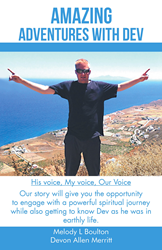 Since he left his physical body, our bond and communication continue...
Portland, Maine (PRWEB) December 19, 2016
A consummate student of spirituality and a licensed, practicing psychotherapist, Melody Boulton lost her son, Devon, at 23 years old, to a rare and aggressive lung disease.
In her new book, "Amazing Adventures with Dev," Boulton shares the story of her strong connection with her son, in this heartwarming and spiritually-charged guide to life after loss and testament to the transformative power of love.
"Devon and I always had a deep connection, sustained by a unique, spiritual dimension of love," Boulton said. "Since he left his physical body, our bond and communication continue to manifest in joyful, lighthearted, loving and amazing experiences that led to the writing of this book."
Boulton has been a psychotherapist for more than 30 years. Her hope, in sharing her and Devon's story, is to help others dealing with grief and loss and to give them hope that death is merely a transition, and not the end of something.
"Our story will give people the opportunity to engage with a powerful spiritual journey, while also getting to know Dev as he was in earthly life," Boulton said.
For more information, visit: https://www.amazon.com/Amazing-Adventures-Dev-Melody-Boulton/dp/1504367634.
Amazing Adventures with Dev
By Melody Boulton
ISBN: 978-1-5043-6763-9 (available in hardcover, paperback and e-book)
Available at Balboa Press and Amazon
About the author
Melody Boulton received her bachelor's degree from The University of Massachusetts and her master's from Lesley College. She is a practicing psychotherapist, with over 30 years of experience. Boulton is a long-term student of The Diamond Approach spiritual school. She has worked as a hospice nurse, teaching staff on the subjects of behavioral health and death and dying.
###
Review Copies & Interview Requests:
LAVIDGE – Indianapolis
Lindsey Gobel
317-435-2116
lgobel(at)lavidge(dot)com