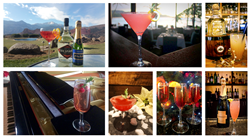 "Drinking the stars," declared an awed and enraptured Dom Perignon, the French monk who is credited with inventing the world's most dazzling drink – Champagne.
The Woodlands Houston) , Texas (PRWEB) December 16, 2016
"Drinking the stars," declared an awed and enraptured Dom Perignon, the French monk who is credited with inventing the world's most dazzling drink – Champagne. A celebration in a glass, we break out the bubbly for life's loveliest moments, marking weddings, christenings, graduations, promotions and holidays. Winning teams spray it over each other in victory. Ever optimistic, we raise a glass to welcome in the New Year. Champagne launches ships, sparks romance and imparts glamor and sophistication to any occasion. Its effervescence inspires striking presentations, bubbling from a fountain or cascading over a pyramid of crystal glasses.
With the holidays here and a New Year on the way, mixologists at nine Benchmark Resorts & Hotels and Gemstone Collection properties offer their innovations on serving Champagne with cocktails that celebrate life, love and libations.
Benchmark Resorts & Hotels Celebratory Champagne Recipes
The Chattanoogan Hotel, Chattanooga, TN
"Foundry 75" ~ their take on a French 75
1/2 ounce Raspberry /Lemon Infused Vodka
1/2 ounce Simple Syrup
1/4 ounce Fresh Lemon
4 ounces Champagne
Garnish Lemon Twist
Glass Flute
Pour into flute measured 1/2 ounce of infused vodka.
Add 1/2 ounce simple syrup and 1/4 ounce fresh lemon and stir.
Pour 4 ounces of champagne into flute.
Garnish with lemon twist and enjoy.
Chaminade Resort & Spa, Santa Cruz, CA
"Chaminade Paloma"
1.5 oz Patrón Reposado Tequila
1 oz Grapefruit Juice
.5 oz Agave Nectar
½ Lime Squeeze
Top Off With Cava Freixenet
Dash of Salt
Doral Arrowwood Resort, Rye Brook (historic Westchester County), NY
"Spiced Apple Cider Champagne Cocktail"
2 ounces Hudson Valley Cider or apple brandy
2 ounces fresh apple cider
3 to 4 ounces chilled Champagne
Top with apple slices and a cinnamon stick.
The Inn at Virginia Tech, Blacksburg, VA
"ChamPino"
1 fl oz Campari
1.25fl oz Sweet Vermouth
Prosecco
Shake Campari and Sweet Vermouth in Ice, pour into Champagne flute.
Fill to top with Prosecco. Garnish with Lemon Twist.
Turtle Bay Resort, North Shore, Oahu, HI
"ISLAND THYME: a Pa'akai Craft Cocktail"
1 ¼ oz Hendricks Gin
½ oz. St. Germain (elder flower liqueur)
1 ½ oz. Fresh squeezed grapefruit juice
Ice
A float of dry champagne, recommend Roeder Estate
Fresh lemon twist (peel)
Sprig of Thyme (gives an aromatic smell while you sip and enhances the Hendricks gin)
Mix the Hendricks Gin, St. Germain, fresh squeezed grapefruit juice and ice in a shaker.
Pour into a martini glass, use drink strainer to hold the ice.
Add a float of the dry champagne.
Garnish with lemon twist and a sprig of thyme.
Cheyenne Mountain Resort, Colorado Springs, CO
"Vanilla-Cran Mimosa"
1 ½ ounces of Vanilla Absolut Vodka
1 ½ ounces of Cranberry Juice
Prosecco Champagne
Fresh Cranberries
Rosemary Sprigs
In a champagne flute, combine the vodka and cranberry juice then top off with Prosecco. Garnish with three fresh cranberries and a sprig of rosemary.
Gemstone Collection Celebratory Champagne Recipes
Garden of the Gods, Colorado Springs, CO
"The Pomegranate French 75"
1.5 oz Lee's Dry Gin
½ oz fresh lemon juice
4 oz Prosecco
½ oz Pama Pomegranate Liquor
Lemon Twist
Float pomegranate seeds
Served in a Coupe
Using zester or paring knife, slice peel from lemon in long, thin spiral. Reserve lemon for juice and set peel aside.
In cocktail shaker, combine Lee's Dry Gin, lemon juice, and Pama Pomegranate Liquor. Add ice and shake vigorously for 20 seconds. Strain into chilled Champagne Coupe and top with sparkling wine.
Curl lemon peel around finger to create twist at least 6 inches long. Garnish drink with twist, float pomegranate seeds and serve immediately.
The Essex Resort & Spa. Essex (Burlington), VT
"The Essex Poinsettia"
3 oz. Avissi Prosecco
½ oz. Grand Marnier
¼ oz. Lillet
2 oz. Cranberry and Herb Coulis
To make the cranberry coulis place a pint of cranberries, ½ cup maple syrup, orange zest, sprig of sage and rosemary and pint of water in a small saucepan. Set over medium heat, bring to a boil. Once it reaches a boil reduce the heat to a simmer; cook until the cranberries pop open. Blend, strain and chill the sauce and set aside until making the cocktail.
Mix chilled Lillet and Grand Mariner into your serving glass, then add Prosecco slowly followed by the chilled Cranberry and Herb Coulis.
Garnish with slivers of cranberry and a sprig of fresh sage and rosemary.
Costa d'Este Beach Resort & Spa, 7-time Grammy Award-winning Gloria & Emilio Estefan's resort in Vero Beach, FL GC
"Hibiscus Berry Infused Champagne Cocktail"
This Hibiscus Champagne Cocktail is enhanced with Hibiscus vodka to provide a tanginess fruit flavor sure to impress all your guests this holiday season.
Hibiscus flower in syrup
1 ½ ounces (one shot) of Jewel of Russia Berry-infused vodka, chilled
Champagne, chilled
Place 1 hibiscus flower in the bottom of a champagne glass.
Add vodka and then top off glass with champagne. Serve immediately.
Repeat entire recipe for as many cocktails are needed.
Attached Photos: The Pomegranate French 75, ISLAND THYME - a Pa'akai Craft Cocktail, Chaminade Paloma, Vanilla-Cran Mimosa, The Essex Poinsettia, ChamPino,
Foundry 75
About Benchmark Resorts & Hotels®
Benchmark Resorts & Hotels® features the finest in lodging, dining, recreational and meeting accommodations. Featuring unique and distinctive properties renown for exceptional service and for creating unforgettable memory-making experiences, it is the signature portfolio of BENCHMARK®, a global hospitality company, which has been a leading US-based hospitality management company for nearly 40 years. Many Benchmark Resort & Hotels' properties are certified by IACC, the association that represents the finest meeting venues and services globally, and many have also been recognized with the coveted Benchmark Conference Centers® certification of meeting excellence. http://www.benchmarkresortsandhotels.com. To become a fan on Facebook, visit http://www.facebook.com/BenchmarkResortsandHotels Follow us on Twitter at https://twitter.com/BenchmarkHotels, on Instagram at http://www.instagram.com/benchmarkresortsandhotels, and on Pinterest at http://www.pinterest.com/benchmarkhotels
About Gemstone Collection
The Gemstone Collection includes distinctive hand-picked properties in spectacular and popular U.S. destinations coast to coast. Each upscale resort and hotel destination provides highly-personalized service and luxury reflective of the charm and unique character of the destination, while in keeping with the collection's shared mission and passion for excellence. A distinguished portfolio of BENCHMARK®, a global hospitality company, which has been a leading US-based hospitality management company for nearly 40 years, the Gemstone Collection is the preferred choice of guests who yearn for inspiring and transformative experiences, customization over conformity, stimulation over predictability, and adventure over routine. http://www.gemstonehotelcollection.com To become a fan on Facebook, visit http://www.facebook.com/GemstoneHotelCollection, or follow us on Twitter at http://www.twitter.com/GemstoneHotels, on Instagram at http://www.instagram.com/gemstonehotels, and on Pinterest at https://www.pinterest.com/benchmarkhotels/gemstone-hotels
# # #