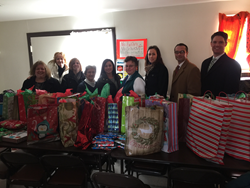 Kingston, PA (PRWEB) December 19, 2016
The team at O'Donnell Law Offices of Kingston, Pennsylvania, is making its annual holiday donation of hoodies and books to the children of the McGlynn Learning Center in Wilkes-Barre, Pennsylvania on December 15, 2016. This marks the 10th consecutive year of participation for O'Donnell Law Offices to the McGlynn Center.
The McGlynn Center is a family enrichment center located within the Boulevard Town Homes, 72 Midland Court, Wilkes-Barre, Pennsylvania. The Center is a non-profit, volunteer-driven family educational center operated by the Sisters of Mercy since 1988. The facility provides educational, recreational and social outreach programs and services for hundreds of children and their families.
"We cannot imagine a holiday season without our annual donation to the children of the McGlynn Center," said Catherine O'Donnell, an attorney with O'Donnell Law. "Every member of the firm buys gifts for the children, in lieu of exchanging Christmas gifts with each other. We play an active role in our community by caring for the children in a special way that will improve their lives."
O'Donnell Law Offices has been recognized in the rankings of U.S. News and World Report and Best Lawyers 2016 with a "Best Law Firms" ranking. Attorneys Neil T. and Catherine R. O'Donnell have been selected to the Martindale-Hubbell Bar Register of Preeminent Lawyers. Both Neil and Catherine have been selected to the Pennsylvania Super Lawyers list for several consecutive years, with Neil also named to the Top 100 Super Lawyers in Pennsylvania.
About O'Donnell Law Offices
O'Donnell Law Offices is a Northeastern Pennsylvania personal injury law firm which has successfully represented all types of personal injury claims, ranging from auto and trucking accidents to product liability claims, to medical malpractice and wrongful death claims. The firm is located in Kingston, Pennsylvania, and its superb team of attorneys provides top quality legal representation and unparalleled service to its clients and the community. O'Donnell Law has been representing clients for more than two decades, and in that time has received numerous awards and recognitions. Visit http://www.odonnell-law.com or call 570.821.5717 for more information on the firm.
#