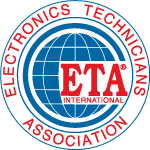 ETA is fortunate to have members dedicated to their professional trade association who are among the movers and shakers in the electronics industry. Their passion helps guide the ETA staff to continuously strive for excellence.
Greencastle, IN (PRWEB) December 21, 2016
ETA recently recognized the contributions of an outstanding technician, educator and local chapter, all dedicated to the highest standards of electronics excellence with ETA's annual awards. Members also voted on the new ETA Board of Directors to promote the arts and sciences of electronics technology and to educate the members and the public in the advancement, improvement and uses of the services of trained and certified electronics technicians.
Those deserving recognition for their dedication and enthusiasm for the electronics industry and their willingness to volunteer at a moment's notice to represent their association include:
Technician of the Year – For outstanding service to electronics technicians, this award is given in honor of the late Norris R. Browne, president of the National Electronic Association (NEA) and a service business owner who worked hard to assure that the professionalism of the independent technician be maintained and championed. This award is presented annually to an individual who is recognized as having similar passion and character. The 2016 ETA Technician of the Year award is presented to Jay Thompson, CETsr; San Diego CA; Senior Field Technician, IWATSI.
Educator of the Year – This prestigious award is named in honor of Wallace "Wally" Medeiros, PhD, CETma, a US Veteran and retired communications worker who spent his retirement working as in instructor at Honolulu Community College and the U.S. military at Barbers Point, HI teaching, inspiring and working on course development. For outstanding dedication and devotion in the education of those pursuing careers in electronics and related fields, this award goes to Clarence Owen Jackson, FOT; Martinez GA; Ordnance Electronics Maintenance Training Department, US Army.
Chapter of the Year – For active involvement in the world of electronics, this award recognizes registered student and local chapters of ETA International and also supports a continuance of dedication to both the association and the electronics field itself. Center Point High School, Birmingham AL, is this year's ETA Chapter of the Year.
ETA members selected their fellow member technicians and educators to promote and guide the not-for-profit professional trade association. ETA Board of Directors includes professionals dedicated to the electronics industry willing to serve the association with the highest standards of excellence. The volunteers selected to serve ETA International for the 2017 and 2018 calendar years include:
Chairman – Ira Wiesenfeld, CETsr; Dallas TX; IWA Technical Services;
Vice Chairman – John Baldwin, CETs; Faribault MN
Secretary – Christopher Miller, CETsr; Towanda IL; Heartland Community College
Treasurer – Tommy Bonner, Ph.D.; Townsend TN; Viavi Solutions Communications Division Chair – Shane Morris, CETma; Buckley WA; Motorola Solutions
Communications Division Secretary/Treasurer – Richard Agard, CET; Philadelphia PA; Philadelphia Fiber Optic Training
Education Division Chair – Douglas Hubert, EdD; Norton OH; University of Akron
Education Division Secretary/Treasurer – James 'Joe' Goudy; CETsr; Fairfield, IA; Indian
Hills Community College
Certified Technician Division Chair – Judy Hill, CETsr; Oak Harber WA; Green Lion
Training Services; ICOM
Certified Technician Division Secretary Treasurer – John Zieliniski, CETma; Lackawanna, NY
Shop Division Chair – Kim Bozman, CSS; Salisbury MD; Teltronic Inc
Shop Division Secretary/Treasurer – Roderic Taylor, CET; Birmingham AL; Center Point High School
Cabling Division Chair – Paul Neukam, FOT-OSP; Huntingburg IN; SiteWise Systems
Cabling Division Secretary/Treasurer – Sean Sheedy, FOT-OSP; Meridian ID; Optical Resources
Renewable Energy Division Chair – Jay Warmke, PVI – Lv1, SMI – Lv1; Philo, OH; Blue Rock Station
Director of International Relations – John Bakkeren, CETma; Brampton ON Canada; Peel Regional Police
Director of Student Chapter Relations – Sherrie Ferguson, EM1; Norfolk, VA
Board of Masters Chair – J. Shane Morris, CETma: Buckley, WA; Motorola Solutions
About ETA - Since 1978, ETA has delivered over 200,000 professional certifications plus nearly 40,000 FCC license exams. Widely recognized and frequently used in worker job selection, hiring processes, pay increases, and advancements, ETA certifications are often required as companies bid on contracts. ETA's certifications are personal and portable worldwide, thus traveling with the individual, regardless of employment or status change. ETA certifications measure and validate competencies of persons, not products or vendors. All ETA certifications are accredited through the International Certification Accreditation Council (ICAC) and align with the ISO-17024 standard. http://www.eta-i.org
Download this press release at –
http://www.eta-i.org/pr/ETA_Selects_Award_Recipients_and_Elects_New_Board_of_Directors.pdf
# # #