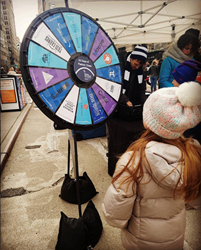 New York, NY (PRWEB) December 21, 2016
Join in the fun at 23 Days of Flatiron Cheer, a holiday event at Flatiron District.
Cesar New York, the North American flagship for Italian kitchen cabinetry company Cesar, has contributed a special prize to Flatiron prize wheel, which attendees may spin at the event, which is happening at various days and times everyday until December 23, 2016. This will be the final weekend of prize wheel fun.
The events will take place at North Flatiron Public Plaza. Tonight's guests will get free hot chocolate from La Pecora Bianca and a chance at the prize wheel.
The events are part of 23 Days of Flatiron Cheer, an event that kicked off December 1 in the Flatiron district. The program was coordinated by the Flatiron/23rd Street Partnership Business Improvement District. Several local businesses contributed prizes, gifts, or refreshments.
For more details on 23 Days of Flatiron Cheer, visit: http://www.flatirondistrict.nyc
Cesar New York is Cesar Italy's North American flagship location. Cesar is a luxury European kitchen cabinet company that produces extremely high quality contemporary kitchen cabinet and kitchen storage solutions. Cesar New York's showroom is open to trade designers and to the public. It is located at 50 West 23rd Street, New York, NY 10010.